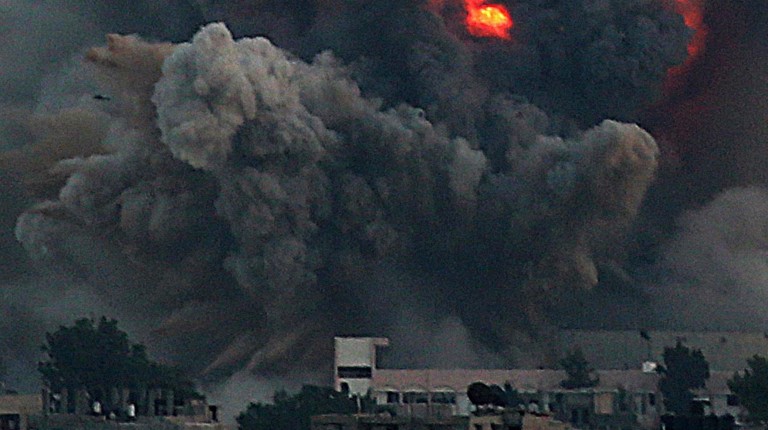 Egypt's President Abdel Fattah Al-Sisi and Saudi Crown Prince Mohamed bin Salman visited on Monday the Suez Canal on bin Salman's second day in Egypt. They also watched a documentary about the Suez Canal Economic Zone and the international logistics centre there, according to presidency spokesperson Bassam Rady.
They also visited some national projects, such as New Ismailia city in Sinai and its tunnels under the Suez Canal. Al-Sisi and bin Salman inaugurated the Fursan resort on an area of 38 feddans in New Ismailia. The resort is considered an integrated touristic project.
New Ismailia lies on the eastern bank of the Suez Canal, on an area of 2,157 feddans and 11.3 km length. Its first phase includes 35,000 units, while the second phase includes 57,000 units.
Bin Salman arrived in Cairo on Sunday for a three-day visit, marking his first official foreign trip since becoming crown prince in June last year.
During the visit, Suez Canal Authority Chairperson Mohab Mamish said that 187 projects are being implemented in the Suez Canal Economic Zone in several fields, including car manufacturing, maintaining ships, medical industries, and tourism.
Mamish hoped for integration between the Saudi Neom project and the Suez Canal Economic Zone, which he hoped will attract trade from all over the world.
According to Mamish, about 18,000 ships pass through Suez Canal annually, carrying more than 1bn tonnes of goods, representing 10% of international trade movement and 20% of global container movement.
On Sunday, Al-Sisi and bin Salman held a bilateral meeting at Al-Ittihadiya palace, addressing a number of regional issues. During the meeting, the two leaders agreed on the necessity of confronting regional interventions and attempts at dividing states of the region, according to the statement from the presidency.
According to the statement, Al-Sisi said the security of the Arab Gulf region is part of Egyptian national security. Bin Salman expressed greetings from Saudi King Salman bin Abdulaziz to Al-Sisi.
Meanwhile, Al-Sisi received a phone call from his US counterpart Donald Trump on Sunday. The conversation addressed the Egyptian-US relationship and the two leaders agreed to boost ties, according to a statement from the presidency spokesperson.
They also discussed several regional issues and their updates, with the aim of reaching political settlements to those issues. Trump also praised the Egyptian efforts in confronting terrorism and expressed his country's support to Egypt in its war against terror.
The phone conversation came during Israeli Prime Minister Benjamin Netanyahu's visit to the US to meet with Trump.