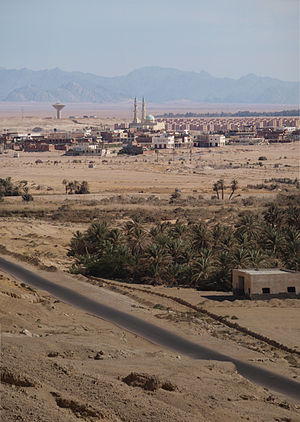 Egypt has committed more than 1,000 sqm in South Sinai to be included within the planned Saudi investment project, a megacity dubbed Neom, as Saudi Crown Prince Mohammed bin Salman met President Abdel Fattah Al-Sisi in Cairo, Al Arabiya reported on Monday.
The investment deal came as both sides seek to enhance political and economic ties, in parallel with bin Salman's first official foreign trip abroad since becoming crown prince last year. His visit to Cairo is planned to last three days, after which he will head to the UK followed by the US.
Al-Sisi and bin Salman set up a $10bn joint fund on Sunday to develop lands in Sinai. Egypt will focus on developing the existing resorts of Sharm El-Sheikh and Hurghada, while the kingdom plans to build seven cities and tourism projects and provide funding for the Egyptian portion of Neom, Saudi officials told Reuters.
Riyadh unveiled the enormous investment project, worth $500bn, in April last year, revealing plans to build a business and industrial zone that will be linked to Jordan and Egypt. The project, which will have its own judicial system and legislation, is expected to focus on industries including energy, water, biotechnology, food, advanced manufacturing, and entertainment and hopes to attract international investors, Saudi officials said at that time.
The kingdom will work with Egypt and Jordan to attract European companies to operate in the Red Sea during the winter season, officials told Reuters, adding that Riyadh is negotiating with seven cruise companies to build marinas for yachts. It added that Cairo and Riyadh also signed an environmental agreement to protect the marine environment, prevent pollution to maintain corals and beaches, and to prevent "visual pollution".
For its part, the Egyptian presidency said in statement on Sunday evening that both sides discussed enhancing investment and economic ties, as well as launching more joint investment projects, especially in the Red Sea region to "boost [its] economic prospects," without providing any details or specifying which areas would be included in the mentioned projects.
The presidency also said in another statement that Al-Sisi and US President Donald Trump discussed yesterday, in a phone call, bilateral relations and Egypt's fight against terrorism.