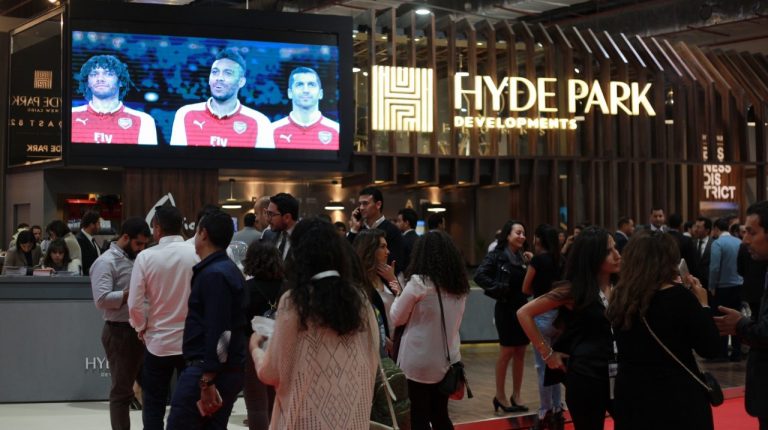 Apartments in the heart of Cairo, coastal homes on Egypt's shores, and suburban community complexes are just some of the residential projects featured at this year's Cityscape Egypt exhibition, which kicked off on Wednesday at the Egypt International Exhibition Centre (EIEC) and concluded on 31 March.
The exhibition hosted more than 70 exhibitors that provided their best and most attractive payment offers to lure visitors to buy property from them.
In past years, the exhibition witnessed very high demand by customers to learn about Egypt's latest projects and it became a haven for them to purchase their units through exclusive offers and deals, which in return made it more appealing for anyone considering investing in property.
Daily News Egypt took a tour of the exhibition, visiting almost all the exhibitors' booths to learn more about their distinguished offers they had for visitors.
Hyde Park Developments was offering a 10% down payment over an eight-year installment period. An exclusive offer was also available for Coast 82 units, according to Amin Serag, CEO of Hyde Park.
"2018 is the year of investment and expansion for us," he said. "We have announced the launch of the latest phase of our project, the units of Hyde Park Business District New Cairo, which has a total investment value of EGP 6bn," said Serag.
The company has been marketing Coast 82, a residential tourism project on the North Coast. The company recently signed a contract with the English football team, Arsenal FC, becoming the official partner of the club in Egypt.
Exhibitor SODIC was offering a seven-year payment plan on their project October Plaza and a 10% down payment, with delivery starting in 2020.
SODIC was also showing its Forty West project. It will include upward of 80,000 sqm of retail, commercial, entertainment, leisure, and residential segments, organised around a series of courtyards and plazas, according to Hussein Shoukry, SODIC's senior development manager.
Exhibitor Tabarak Developments was showcasing its 90 Avenue project—with phase one expected to be completed this year—in New Cairo. In addition, the developer also revealed its Capital East Residence in Nasr City, which was offered at the show.
Talaat Moustafa Group was exhibiting Madinaty, a residential community in New Cairo; Al Rehab City, a 10m sqm integrated residential community also in New Cairo; Four Seasons Sharm El-Sheikh; and New Capital Project in the New Administrative Capital, a residential, commercial, office, and entertainment community.
"This project covers an area of 500 feddans and includes a variety of residential models to meet different needs. The development includes a comprehensive range of services to residents in what embodies TMG's commitment to providing modern, high-quality housing in serviced and attractive urban communities," said the developer.
This year's platinum sponsor, the company Projects, was showcasing its Blues Tiffany development in Ras El-Hekma on Egypt's North Coast. The project is spread over 250 feddans and the developer was offering a 10% discount and also revealed flexible payment structures at the show.
Moreover, on the last day of the exhibition, the company offered a Mercedes Benz for one client through a lottery under the supervision of the Ministry of Social Solidarity.
Optimistic about the real estate industry in the country, Hossam Bahaa, CEO of Projects, said the property sector is the driving force of the economy and is expected to "raise the Egyptian GDP in the upcoming years, decrease unemployment, and attract foreign investment resulting in the decrease of inflation."
Al Safwa Urban Development Company had a great offer for clients through providing discounts up to EGP 200,000 in its Capital Heights project at the New Administrative Capital.
ARDIC for Real Estate Development offered 10% off limited units with no down payment and nine-year installments for clients in Zizinia El Mostakbal project.
Misr Italia Properties offered Mousa Coast project's units with no down payment and a 10-year installment period, while the company offered units at Italian Square with a 10% down payment over a six-year installment period.