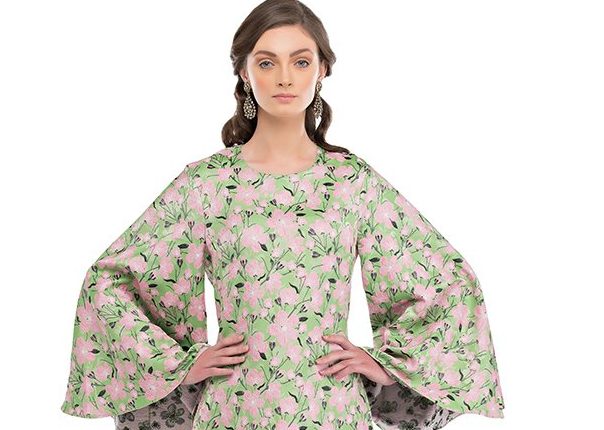 With all eyes fixed on the Middle East, modest fashion is crossing the borders between the east and the west in order to become a global form of dressing. Meanwhile, international designers are starting to experiment with this direction; evidently, regional designers are taking the front seat as leaders of this particular move.
Bambah Boutique is one of the key names that have been changing the fashion industry, one garment at a time. From starting as an advocate for vintage-inspired clothes to becoming a synonym of modest fashion, the Dubai-based brand is once again ready to celebrate the new season with a distinctive combination.
For the rapidly approaching holy month, the extraordinary brand launched a new collection with distinctive florals. The statement pattern takes different shades of pastel lavender, peach, champagne, and baby blue, among others, in order to appeal to the upcoming hot season. The capsule collection includes 24 different looks that would make great companions for Iftar and Suhour outings.
Being a true fan of classic Egyptian movies, Maha Abdul Rasheed, founder of Bambah Boutique, has always been fascinated by vintage silhouettes. Her eye for retro extravagance often reflects on her designs, as she tends to borrow popular elements from well-known trends that rose to fame between 1930 and 1980.
The Ramadan 2018 collection remains faithful to the brand's characteristic puffed sleeves and voluminous cuts. Meanwhile, it takes the traditional kaftan one step further with a colourful rainbow of patterns incorporated with minimal designs. Furthermore, the collection also features a modernised abaya, made out of lace and accessorised with a statement bow. The practical design comes in seven different colours, including red, mint green, and pearl pink.
According to the designer, luxurious fabrics and unapologetically lady-like silhouettes are the two staple features of the collection which distinguish Bambah from any other brand on the market. On the other hand, this particular collection is no exception in terms of the memorable, striking floral patterns that aim to add a playful touch to every woman's wardrobe.
The collection was already launched online for immediate purchase a few days ago, and nonetheless, a couple of designs have already run out of stock.