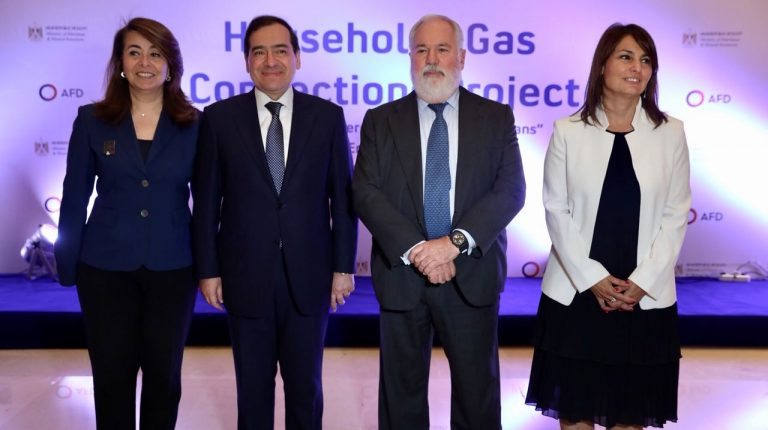 Miguel Arias Cañete, European Union (EU) commissioner for energy and climate action, said the EU will continue to support the Egyptian government to reform its energy sector and establish a sustainable system, adding that the EU granted Egypt €68m for the Households Gas Connections Project.
The EU delegation to Egypt organised a conference on Sunday evening to announce a new energy project, the Households Gas Connections Project. The project's total funding is estimated at more than $1.2bn, including a grant of about €68m from the EU, €70m of the French Development Agency (AFD), $300m from the World Bank (WB), $326m from other financing sources such as fees from consumers, and $473m from the Egyptian Natural Gas Holding Company (EGAS).
Cañete added at the delegation conference that achieving the development strategy goals will not take place without gas connections and eliminating poverty.
"Egypt has a lot of progress in the field of energy, it is a main partner, we support the stability and prosperity of the country, we always support Egyptians in facing the security issues," Cañete said.
Stephanie Lanfranchi, country director for the AFD, said, "I feel proud to be a part of such an important project. I see that the Egyptian government has taken many ambitious decisions to modernise the gas sector and enhance its availability for many people."
Lanfranchi added that the governmental efforts led to many accomplishments in terms of eliminating poverty and enhancing life quality, noting that the AFD is collaborating with the WB, the EU, and local governments to help in implementing the project.
"Egypt's minister of petroleum is an active man. He and his team are very helpful, they give the projects the full needed support," added Lanfranchi.
 The EU offered Egypt a grant to help people who cannot afford gas to be connected to the gas network, said Lanfranchi, adding that the Egyptian Ministry of Social Solidarity will help in reaching people who are in most need for gas in the poorest areas.
"The technical support will be available very soon. Increasing the number of beneficiaries is a very important issue," said Lanfranchi.
Ghada Waly, minister of social solidarity, emphasised the importance of the project as it matches the ministry's goals in terms of eliminating poverty and empowering women, adding, "the ladies in poor areas have to stand in long and crowded queues to get gas cylinders."
The minister noted that the new project will offer poor women a safe, clean source of energy, adding that any money they save will be spent on their children.
Waly mentioned that connecting people to gas is considered a labour-intensive project, which plays an important role in economic development, adding, "we are committed to continue to support gas connection projects."
Tarek El-Molla, minister of petroleum and mineral resources, said that Egypt recognised gas discoveries in 1967, but gas was a side product, seen as not as valuable as crude oil, adding, "in the 1980s, Egypt started the projects of gas connection. Last year, we connected 700,000 house to the network. Now there are 8.6m houses connected to the gas network."
El-Molla noted that the European support is managed by the AFD to help enhance the infrastructure of gas projects and said, "the project will help 500,000 low-income households connect to the gas network."