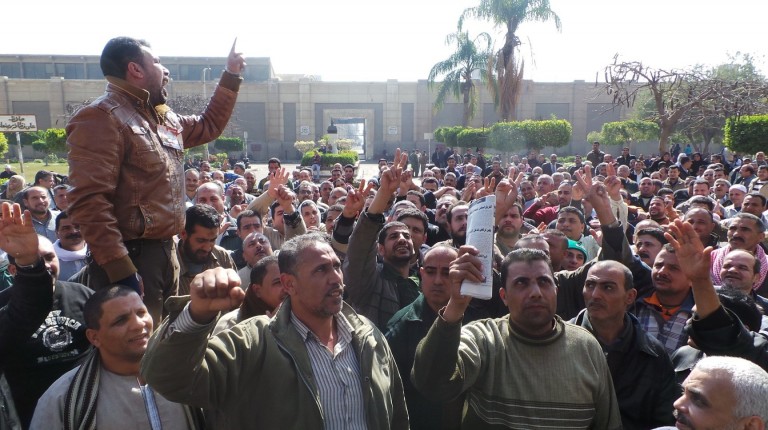 The Democracy Index reported that Egypt saw 299 protests from May 2017 to April 2018, mostly calling for increased wages and access to financial dues. Tuesday marked Labour Day, which celebrates workers around the world
The report, which was published on Monday, said that 95 workers were either briefly detained or arrested during that year-period. It added that politics-related issues caused 5% of the protests, while seven protests were executed to demonstrate rejection of US President Donald Trump's decision to relocate his country's embassy in Israel to Jerusalem.
Protests also included demands to provide more security and compensation to workers who operate in dangerous fields or those who are either injured or lose their lives. One demonstration, in August 2017, demanded that compensations be given to the families of the three workers from the Aswan Cement company, who died in a chemical spill over.
The three workers were a technician and two engineers. After their deaths, workers protested, demanding the company implement greater safety procedures, and investigate the incident. Several of the workers were arrested for inciting their colleagues to hold a strike, but were later released.
The report cited 19 methods of protesting, with 36% of them being sit-ins. Meanwhile, strikes represented 27% of the protests. The survey also reported 12 cases of hunger strikes, two cases of road-blocking, and another case of refusing to receive salaries as a declaration of protest.
Accusations levelled against workers include hindering work, inciting violence, and unlicensed protesting. However, the index said that 96% of worker protests were described as peaceful.
The report also mentioned that the flotation of the Egyptian pound—which was a part of the neoliberal policies that the Egyptian government has been taking to fulfil the conditions of foreign lenders—was a decision that caused serve price hikes in essential food products and fuel.
The high prices, according to the report, were a reason for several demonstrations. It also cited the   promised 10% bonuses which were promised by the government, but were only given to workers in certain fields.
In August 2017, 6,000 workers held an open-ended sit-in at the state-owned Misr Spinning and Weaving Company in Mahalla for more than a week. The workers warned authorities that they would strike if their bonuses were not paid and the late payments are issued. They managed to stall production in the factory by organising a sit-in.
In the same context, Egyptian President Abdel Fattah Al-Sisi praised last Sunday Egyptians' patience with the latest economic reform measures, during a ceremony in celebration of Labour Day organised by the Egyptian Trade Union Federation.
He further said that Egyptian workers should take all the credit for projects that were implemented throughout the last few years, which varied from building power stations and roads to the new Suez Canal expansion. He added, "no one can deny the efforts you made. However, I am asking you to exert more effort in the coming period."
Mahalla workers staged a crippling strike in 2006 to demand bonuses and better wages, which inspired numerous other strikes by factory workers across the country. This strike is often credited as being one of the major factors leading up to the 25 January 2011 revolution.
Lastly, the Democracy Index reported that Egypt saw 244 protests from May 2016 to April 2017, calling for increased wages and access to financial dues. Workers' strikes resulted in 186 arrests and the suspension of 2,691 workers.