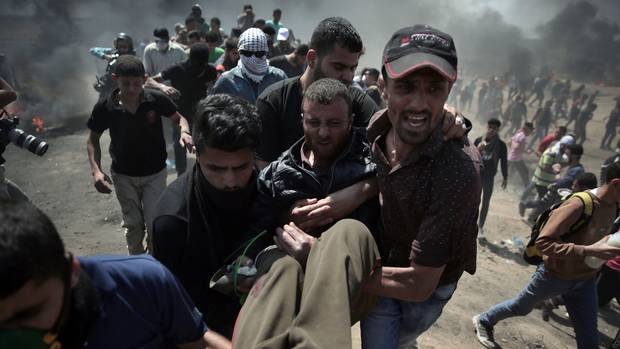 Human Rights Watch (HRW) said on Wednesday that Israel's repeated use of lethal force against Palestinian demonstrators in Gaza, since last March, may amount to war crimes.
In a statement, HRW asserted that the use of live ammunition suggests a violation of international law, as there was "no imminent threat to life," said Sarah Leah Whitson, Middle East director at Human Rights Watch.
"The United Nations General Assembly should support a resolution that calls for exploring measures to guarantee the protection of Palestinians in Gaza, and a UN inquiry mandated to investigate all violations and abuses should identify Israeli officials responsible for issuing unlawful open-fire orders," read the statement.
It further added, "the killings also highlight the need for the International Criminal Court to open a formal investigation into the situation in Palestine."
The HRW statement came ahead of an emergency UN General Assembly meeting to vote on a resolution condemning Israel's "excessive use of force."
Since the end of March, through 8 June, thousands of Palestinians took part in demonstrations calling for their "right of return," protesting the relocation of the US embassy from Tel Aviv to Jerusalem, and demanding lifting the blockade imposed by Israel after Hamas seized power in Gaza in 2007. More than 110 Palestinians, including women and children, were killed by Israeli forces.        
In May, the Palestinian Authority (PA) asked the International Criminal Court (ICC) to open an immediate investigation into Israel's "grave crimes" against Palestinians, particularity the recent bloodshed in Gaza that led to the killing of at least 60 Palestinians and the injuring of more than 2,000, as well as Israel's settlements policies.