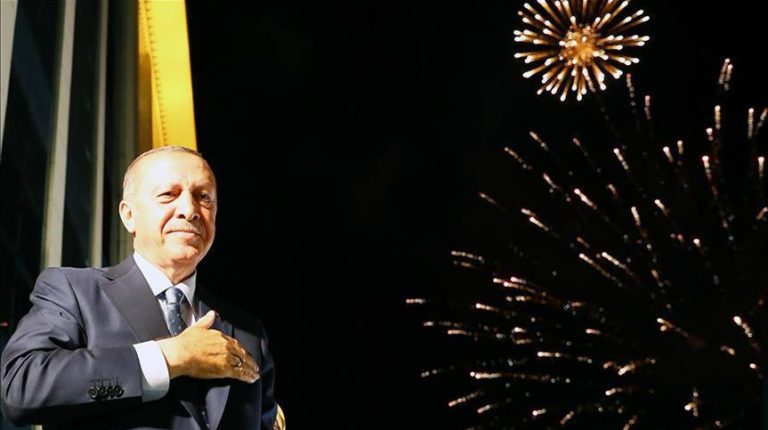 Turkey's strongman, President Recep Tayyip Erdogan, on Sunday claimed a major victory in the first round of the parliamentary and presidential elections, winning a new five-year term, according to unofficial results, and taking the country into a new one-man regime era.
Turkey's national electoral board pronounced that Erdogan picked up nearly 53% of the counted votes, while his ambitious rival, former physics teacher and centre-left politician Muharrem Ince, won just 31% of the votes counted. Final results will be declared on Friday.
The results revealed that Erdogan's ruling Justice and Development Party (AKP) will have 42% of seats in the 600-member parliament, holding a majority with the help of its ally, the Nationalist Movement Party (MHP), with 11%, while the opposition Republican People's Party (CHP) won 23%.
During the first and most critical elections in years, opposition from different sectors, including Islamists, secularists, and nationalists, united for the first time to attempt to defeat Turkey's long-time leader, or at least to prevent him from winning re-election in the first round.
Ince, a politician who has served as an MP since 2002, surprised the political scene when he gathered hundreds of thousands of supporters at his rallies in main cities like Istanbul, Ankara, and Izmir. He is seen as a tough challenger to Erdogan, who served as prime minster beginning in 2002 and subsequently took office as president in 2014.
However, the 64-year-old Erdogan will now enjoy sweeping presidential powers, entering the country into a new era after he narrowly won a referendum last year that abolished the post of prime minster, transferring executive powers to the president, including over the judiciary—changes that could keep him in office until 2029.
The new system will grant Erdogan powers which include forming the government, appointing public officials such as minsters and vice presidents, issuing decrees, and imposing a state of emergency, which was declared in the country following the failed coup in 2016.   
"The nation has entrusted to me the responsibility of the presidency and the executive duty," Erdogan said in televised remarks following the initial results.
In his victory speech before thousands of his supporters from the balcony of his party's headquarters in Ankara, Erdogan further said that he will continue advancing in Syria, noting that he will "fight terroristic organisations to make the Syrian grounds freer."
Turkey has been a major player in the devastating civil war in Syria, which involves other powers such as Russia, Iran, the United States, the UK, and France, which have backed different sides. Ankara has conducted airstrikes in northern Syria against Kurdish opposition forces, which it considers "terrorists."