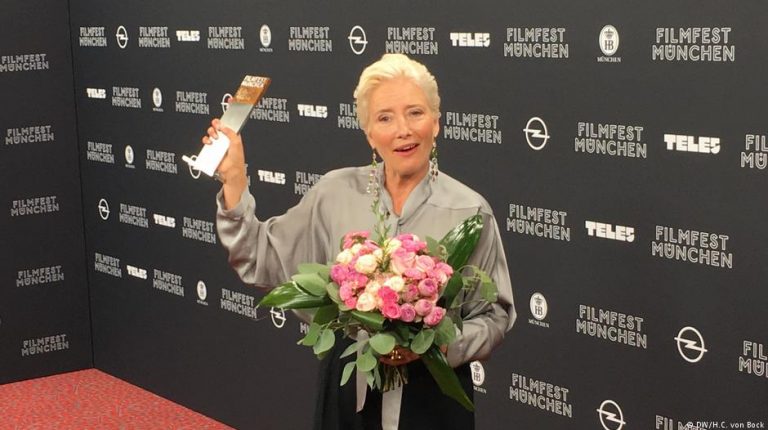 British film star Emma Thompson was honored for lifetime achievement at the Munich Film Festival. DW met her there on the red carpet and discussed #MeToo, Brexit, her latest role and why she loves Germany.DW: What was for you the biggest challenge playing the role of a family judge in your latest film, The Children Act?
I think it was trying to incarnate that huge power that a judge has, the way of the law and the responsibility that you have over people's lives. And in this case over somebody's life and death. The sense of that responsibility was a big challenge. But I have met a lot of female judges in a family court, and they really helped me to understand it.
You've received pretty much all of the world's top acting awards: Oscars, Golden Globes, Baftas, Emmys.
What is special about receiving the CineMerit Award in Munich for a lifetime of acting?
I think it's my first lifetime achievement award; it's made me think about my life.
And I have been thinking about my connections with Germany and my admiration for Germany, actually, in this extraordinary welcome that you gave to so many refugees here. I admire it so much, because my son is a refugee, so I feel a really intimate connection with the generosity of spirit that I found here.
And since we decided to leave Europe, I am also here just because I want to nail my colors firmly to the mast and say I feel completely European. I love my connections with my friends who are artists in Europe, not only in Germany but in the European countries. And I think that this sense of community, the artists' community, is so important, so it's wonderful for me to be here in this beautiful city, feeling that connection at a time when in my own country there is a big disconnect.
How do you view the impact of the #MeToo movement and Time's Up on the film industry and on broader society as well?
I think it's the most wonderful and long overdue movement. I made a lot of comments on it right in the beginning of the Weinstein scandal, and I said these guys have been at it for years, but it's the system that we need to change. So now we need to move on from all of our personal cases which are very important to discuss, but we should actually also be talking to the perpetrators.
We also need to change the system, and it's a power system, that means that certain people don't have jurisdiction over their own bodies and certain other people feel that they are at liberty do whatever they want over those bodies. And clearly that's a power structure that's not working.
So it's fantastic that these new discussions are happening that we are all able to change it, because I don't think anyone wants it actually. I don't really think that men want it either. It's a sort of miserable place to put everyone in. So it's time; we need to be talking to each other a lot face to face about all of this.