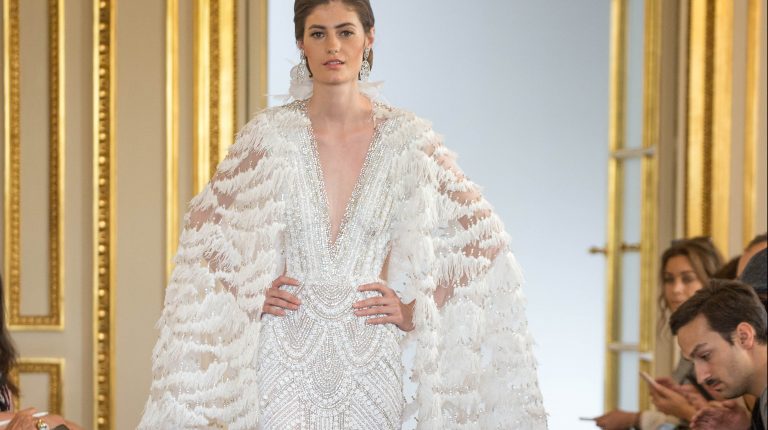 As the warm weather of July starts to waltz with the seasonal rain, the city of light gets peppered with elaborate masterpieces of couture grandeur. Around each corner a gang of photographers capture the subtle sways of dramatic skirts and unforgettable haircuts flaunted by the world's most celebrated fashion influencers.
While the world is listening intently to the new fashion verdicts declared by the Parisian couture week, eight international designers decided to bring an oriental flare to the French capital. After a series of successful seasons, eight designers presented their autumn/winter collections at during the 25th edition of the Oriental Fashion Show in Paris.
Over the course of two days, Hotel de Crillon and Hotel le Peninsula witnessed a number of spectacular Haute Couture masterpieces. The off-schedule catwalk shows were without a doubt colourful, quirky, and flamboyant.
Egypt's Hany El Behairy initiated the fiesta on Sunday 1 July with a contemporary reinterpretation of Eastern women. Known for his splendour and articulate implementation, the renowned designer showcased a memorable Paris collection, which included sultry evening gowns and jump suits in silver, grey, black, and green. As for the grand finale, the designer ended the show with an off-the-shoulder wedding dress adorned with precious stones and silver embroidery.
Meanwhile, fashion icon Slava Zaitsev perfected time travelling with a Russian fairy tale. Described as "Red Dior," his dreamy designs revolved around his country's traditional dresses, headwear, skirts, and jackets presented in bold prints and strong autumnal colour palettes, which encompassed bright reds, oranges, and bottle greens.
With that said, one of the most remarkable milestones during this season was the awaited debut of upcoming Palestinian designer Saher Okal. The Project Runway Middle East winner opted for his preferred shades of blue, cream, and taupe. Furthermore, he favoured geometric patterns.
"Our Paris events are an important opportunity for Eastern designers to broaden their international reputations in the fashion capital of the world. The designers showcase a fascinating mix of authentic Eastern heritage and contemporary styles, giving Parisians an opportunity to discover fresh talent and new inspirations," said Hind Joudar, founder of Oriental Fashion Show.