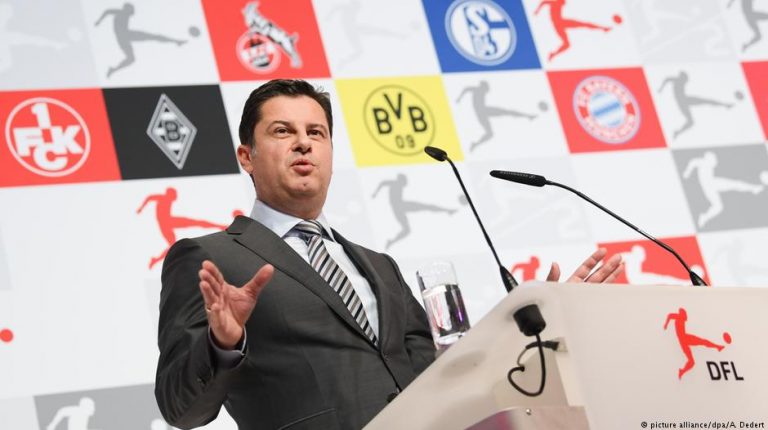 After Spain's La Liga announced its intention to play one league game per year in the United States, Germany's Bundesliga has ruled out following suit. DFL chief Christian Seifert said he "thinks nothing of the idea."Bayern Munich vs. Borussia Dortmund in Shanghai? Schalke vs. Bayer Leverkusen in New York? Not any time soon, according to the German Football League (DFL), which operates the Bundesliga.
"We will never play a competitive game outside Germany," said DFL chief executive Christian Seifert on Tuesday at the Football Summit in Frankfurt, an annual conference organized by broadsheet Zeit.
Spain's La Liga announced in August that one match per year from the country's top flight will be played in the United States as part of a 15-year joint venture with global sports marketing company Relevent, the organizers of the International Champions Cup. But Germany will seemingly not be following suit.
"Playing an official, competitive match abroad, where points are at stake and where participation in international competition or relegation or promotion could be decided, would be a huge show of disrespect towards fans and players," said Seifert. "I don't think anything of the idea."
Barcelona in Miami
La Liga's decision to play one game in the USA is part of Spanish football's attempts to keep up with the financial and marketing power of the English Premier League, whereas organizer Relevent sees the games as a step to boost the popularity of football in North America ahead of the 2026 World Cup, which will be hosted by the USA, Mexico and Canada.
According to Spanish publication Sport, the January 27 fixture between champions Barcelona and Catalan rivals Girona has been selected to be the first La Liga game to take place abroad, news which was confirmed by Girona sports daily L'Esportiu who ran with the headline: "All off to Miami!"
Yet while the DFL are just as keen to market the Bundesliga abroad, Seifert said he doesn't believe that America "needs need European help to promote the game."
With La Liga games habitually kicking off at eleven different times each weekend, Spanish fans are used to watching their teams at almost any time of day – a development which Seifert also ruled out in the Bundesliga, where averages attendances and away followings are considerably higher.
– Read more: 'Football needs to decide what its fans are worth'
Finding a balance in Germany
Last season saw large-scale protests against the introduction of Monday-night games in the Bundesliga as match-going supporters voiced their concerns that the league is already taking national and international television audiences more seriously than them.
Finding a balance between new commercial opportunities and German football's fan culture is therefore more difficult and Seifert believes "that is the challenge which we need to keep dealing with."
While ruling out playing actual matches abroad, Seifert nevertheless insisted that the DFL continue to "embrace digitalization."
"It would be naïve to think that ten-year-old boys and girls will still be sat in front of their screens in fifteen years' time watching a nerve-racking 0-0 draw. That won't be the case and we have to deal with that."
mf/mds (SID/dpa)