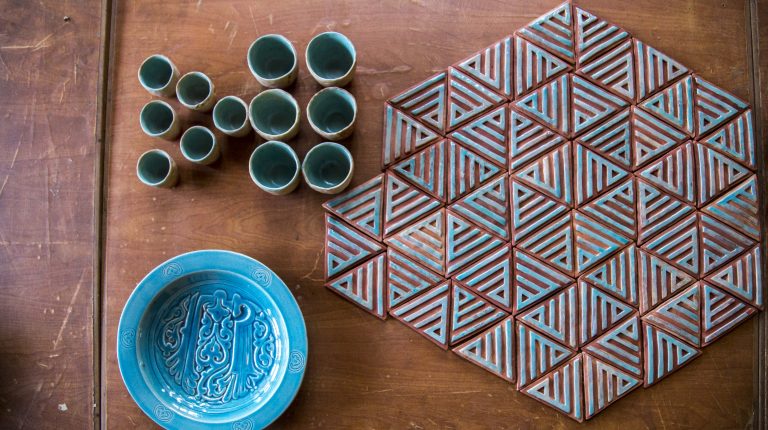 "The main thing is to be moved, to love, to hope, to tremble, and to live," said Auguste Rodin, the notable French sculptor, considered the progenitor of modern sculpture, on art.
At Jameel House of Traditional Arts in Cairo, three women of different ages, cultural backgrounds, and idiosyncratic personalities followed their passion, searching for hope, new beginnings, spirituality, and beauty amid ugliness. They joined the Art Jameel House programmes to learn handicrafts, which include carpentry and ceramics.
The Art Jameel House in Cairo is an educational institute which provides classes in traditional Islamic geometry, drawing, colour harmony, and arabesque studies, as well as specialised training in ceramics, glass and gypsum, metalwork, and woodwork.
All three artists have valid reasons to start from scratch in professions where they might not have the required experience. One of them gave up a long-time career; another reconsidered establishing her own workshop; while the third finally satisfied her ultimate passion for reviving Islamic civilisation and culture.
"I was originally working in the business administration field, specifically human resources. But my soul was always thirsty for the arts," said Nesreen Sharara.
Sharara, 37, studied business administration at Cairo University. She spent years in this filed, then moved to civil society, as she was trying to reach a job which somehow related to the Arts. "I work as project manager at Safarni, an Intercultural Children's Workshop."
She was born in the United Arab Emirates and used to visit Egypt on regular vacations until she finally settled down in the country.
"Egypt changed very much. As everything turned uglier, I was trying to search for beauty in everything in my life. I always have a craving for beauty," said Sharara.
As a hobby, she takes photographs and sketches. "Photography gives me a chance to capture hidden beauty in every scene I see," noted Sharara, adding, "for me smelling a rose is an act of art."
Sharara added that the Arts and culture are "ways to develop oneself on both the human and cultural aspects." 
With all this passion, she never knew how to find her way in a profession, which would fulfill her passion for the arts. She did not study anything related to culture or arts in an academic way, so then how could she start?
"I learnt about the Art Jameel House. And I said to myself, 'why not? Maybe this the right time to apply. If I am accepted it will be great. If not now then maybe later,"' noted Sharara.
Fortunately, Sharara got accepted. She was lucky that her work was on a part-time basis. "I had time for the courses which lasted for two years. It was tight, but it all worked out well eventually."
Sharara specialised in carpentry and woodworks. "After two years of studying and practising, I believed I could start my own workshop. Before that, it needed tremendous courage." 
"The institute taught me the basics of product design and how to get inspired by nature, colours, and even the movements of birds. It really put me on the right track," Sharara elaborated.
Now Sharara is looking to start up her own business on a small scale. "I would like to start with something small and manageable. Carpentry needs space and machines, but I could start designing from home, then I can finish the products at a workshop."
On the other hand, Farah El-Masry found her calling in ceramics. The 25-year-old studied philosophy and Islamic Civilisation at the American University in Cairo.
El-Masry is co-founder and creative director at the Doodle Factory, which provides designs that allow children's creativity and playfulness to fund medical, educational, and survival needs of the children.
"I loved studying Islamic art and architecture. It was very appealing. I was not only attracted to beauty. I believe there was something deep and hidden related to the civilisation itself and the people behind it," said El-Masry.
El-Masry added, "I joined the Art Jameel House in an effort to return to what we belong to, our history, and civilisation. To return to our origin and appreciate it."
"One of the significant aims of the institute is reviving all the ancient crafts that we miss in our modern life," El-Masry said. "Everything is easily produced now. Previously, It took a long time to create a valuable piece. This is what we miss now, the concept of mastery," she added. 
El-Masry further added, "everything was very connected to each other, religion, beauty, and philosophy, they're all connected and lead one to create something with a meaningful message. This what I am trying to do now, reconnect them once again."
At the institute, students were instructed to choose a ceramic plate which has a historical value and to create a Rebecca. "I chose ceramics as it is made of clay, just like us, since we, humans, are also created from clay and water resurrects us back from nothing to life."
"Plus," she said, "in my project, I chose designs which include calligraphy, as I believe I still need to understand the depth of the meanings behind what I see." 
El-Masry tried to translate from a Kufic calligraphy painting the name of Allah (God). "The name was repeated in the painting. I liked the concept of repetition and continuity which also exists in spiritual acts of Zikr (the remembrance of Allah)."
With respect to colours, she chose blue because it is very known one in Iranian architecture, which she was strongly inspired by.
Regarding her future plans, El-Masry hopes to establish or participate in a project that aims to teach people Islamic art and architecture and organise trips to appreciate historical buildings.
"I know two people who graduated from the Prince's Foundation School of Traditional Arts in London and started a similar project. I wish I could have a chance to take part in such a project in Egypt."
Similar to El-Masry, Ayaa Hamada is also interested in Islamic art and architecture. The 27-year-old engineer left her career to join the institute, and she will finally be able to do what she loves.
"I really love engineering. but what I am doing here is different and very inspiring. I can work for days without stopping. I never feel tired or bored," Hamada noted.
She continued, "when I feel upset, I resort to art and colours. It gives me peace and calm. It really can heal you."
Hamada's project at the Art Jameel House was a niche inspired by the Mosque of Ibn Tulun. "I got attracted to the mosque's trappings, which do not exist in other mosques in Egypt."
"If we appreciate Islamic art and architecture, we will be always surrounded by beauty," noted Hamada. She chose ceramics since it could be used at home. Hamada already started creating some pieces and received some orders for some of her work. "It is material I can use at home. I do not need a workshop in the early stage of working."
She added, "I received a few orders and I consider this a very good start for my dream profession."
However, Hamada's ambition is greater than that, as she explains, "I would like to open my own gallery and to create ceramic products which reflect my inner soul, thoughts, and artistic taste. They would be simple pieces without any complexities."