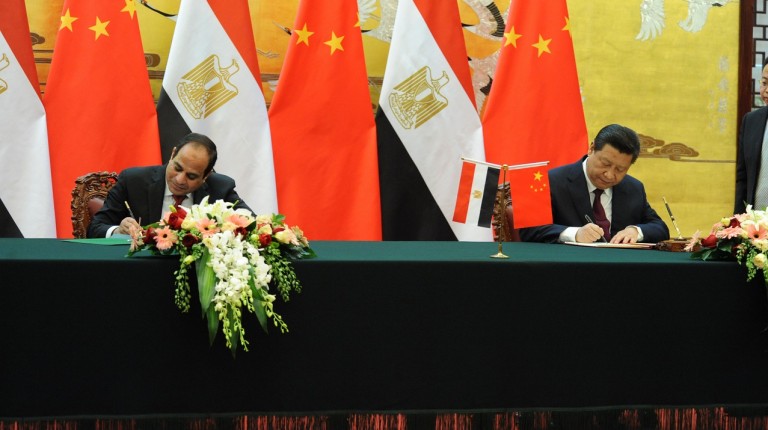 Banque Du Caire signed last week a cooperation agreement with the National Bank of Uzbekistan, Uzbekistan's largest banks, to open new channels in support of foreign trade.
The agreement aims to increase Egyptian exports and support Egyptian exporters to penetrate foreign markets in general and to break into the Commonwealth of Independent States (CIS) countries, a Euro-Asian international organisation consisting of 12 former Soviet republics based in Minsk, Belarus.
The agreement allows direct dealing between the two banks without the need for an intermediary bank. Banque Du Caire also guarantees the Egyptian exporters' entitlements, providing payment facilities to importers of Egyptian goods, the immediate repayment to Egyptian exporters, and covering all commercial transactions between both countries.
The agreement is also the basis for providing the same facilities to CIS countries, which consist of Azerbaijan, Belarus, Kazakhstan, Georgia, Kyrgyzstan, Armenia, Moldova, Russia, Tajikistan, Turkmenistan, Ukraine, and Uzbekistan.
For his part, Chairperson of the Board of Directors and Chief Executive Officer of Banque du Caire Tarek Fayed underscored the importance of the agreement in supporting the Egyptian exports, which are experiencing a great increase in the coming period. He also welcomed the cooperation of various banking institutions in all countries to enhance the joint-cooperation with Egyptian exporters in foreign markets.
Several other agreements are expected to be signed soon with multiple Uzbek banks in order to ensure the comprehensive inclusion of the state of Uzbekistan so as to enhance cooperation with respect to investor relations and other fields in order to open paths which support Egyptian exports, Fayed added.
According to Ashraf Abu Alam, general manager of the financial institution's sector at Banque du Caire, from this point forward, the bank is targeting to focus on financing and supporting Egyptian exports, with an impact on intensifying the industry and increasing foreign exchange resources by opening channels to finance foreign trade operations.