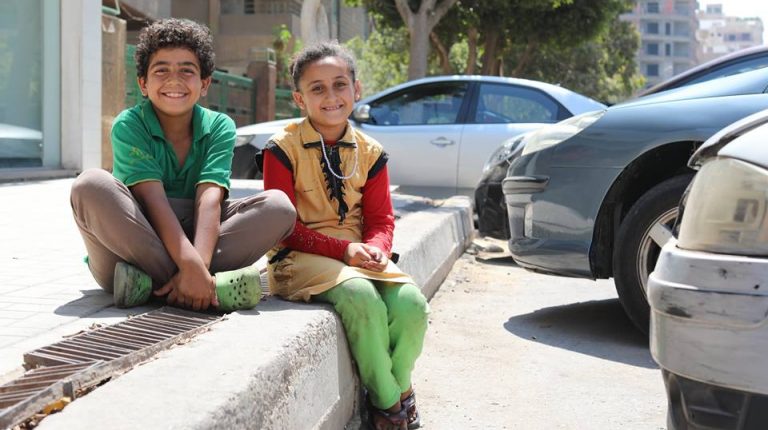 It was a normal day in the life of two siblings, Essam and Hanan, when they went to work, not knowing that a photo taken of them by a stranger would change their lives. As a part of documenting the life of Egyptians, American photographer and blogger Brandon Stanton, founder of Humans of New York (HONY), Stanton took a photo of the 12 and 13 year old brother and sister who in helping cars park to collect money for their school fees to shortly cause the photo to go viral on social media leading giant fizzy beverages company Pepsi to fund their education fees.
Over a month ago, Stanton announced that he is coming to Egypt to capture some of Egyptians' lives in pictures and post them on the page's Facebook page.
With tens of published stories over the past two weeks, the story of Essam and Hanan was what captured people's hearts the most.
Capturing them with dirty clothes, yet wide bright smiles, while sitting on a street pavement, the page wrote about the young children's dreams from the money they collect from work. According to the conversation Stanton had with the two children, they work in helping cars to park, in order to collect money for their school fees and get a bicycle.
Hanan stated that they have been collecting the money for three months to buy a bicycle and afford the school fees, and some of the few things they spend money on is drinking Pepsi.
"We're helping people into their parking spots. School starts in a few days and we're trying to raise money for our school fees. Also I want to get a bicycle because all my friends have bicycles. They use their bicycles to make me angry because I don't have one. But wait until I get my bicycle," the picture caption stated.
"Yesterday a street vendor came by with jewellery, and my brother bought me this necklace. And he also bought me a watch, but it broke. And a ring, but I lost it. He really loves me so much," it added. Nouran Ibrahim, the translator who accompanied Stanton in his trip stated on her Facebook page that they randomly saw the two siblings, while walking down the streets of Heliopolis.
She said that they were extremely excited knowing the Stanton is a foreigner and that Essam ran into him introducing himself saying, "my name is Essam, what's your name?" he said, according to her.
Soon after the picture was posted, it went viral on social media with over 6,000 shares. Few days after, Pepsi Egypt announced that it is paying for the fees of the students to be enrolled in the school.
"Thank you Humans of New York for shedding light on these siblings' story. We managed to get in touch with them yesterday and we're excited to get them ready for school this year," Pepsi's official Facebook statement.