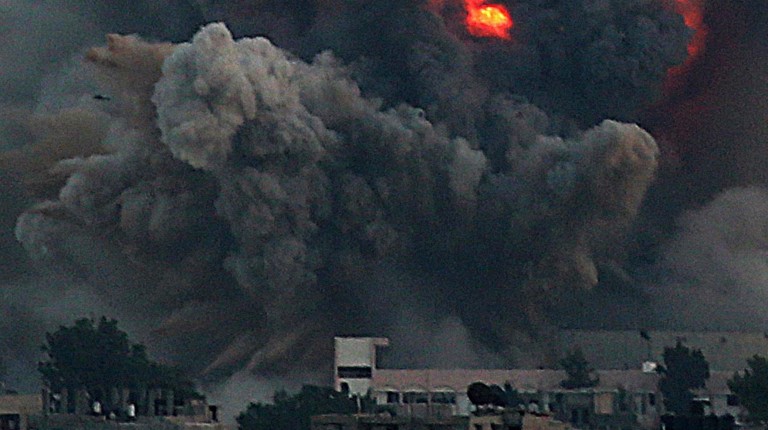 The suspension of diplomatic ties with Qatar will continue until it implements the 13 demands requested by the four Arab countries, Egypt's Minister of Foreign Affairs Sameh Shoukry said during a joint press conference on Saturday.
This came on the sidelines of the sessions of 73rd United Nations General Assembly (UNGA) in New York.
Shoukry headed on Friday to the city of New York with other diplomats to join President Abdel Fattah Al-Sisi during his participation at the UNGA, taking place between 18 September and 5 October.
Shoukry explained that Egypt's position will remain cordial with the other Arab countries, boycotting Qatar until the demands are fulfilled.
Egypt along with four Gulf countries, Kingdom of Saudi Arabia (KSA), United Arab of Emirates (UAE), and Bahrain have suspended diplomatic ties with Qatar on June 2017, due to accusations of supporting and financing terrorist groups and declared a list of 13 demands to Qatar to solve the issue.
Shoukry also addressed in his statements that Africa is not adequately represented in the UN, and there is a discrepancy in the Security Council regarding issues related to African countries.
He also said that the African Group does not represent a quarter of the membership of the UN's 193 member states, and highlighted that Egypt is pursuing a seat in the security council and general assemblies since 2004.
The minister also conducted bilateral meetings, which aimed to strengthen foreign affairs and discussed the regional current crises.
In his meeting with his Bahraini counterpart Khalid bin Ahmed Al Khalifa, the discussion focused on boosting bilateral relations and following-up on developments in the region.
Shoukry stressed on Egypt's steadfast stance of enhancing solidarity and joint Arab action in facing regional challenges and its complete rejection of interference in the affairs of Arab countries.
He also asserted that the security of the Arab nations is an integral part of Arab and Egyptian national security.
For his part, the Bahraini minister praised the distinguished relations between the two countries, as well as  the progress witnessed in recent bilateral relations in all fields between both countries.
The discussions further included the work of the joint Egyptian-Bahraini committee, means of following-up on its work, and the decision implementation process. It also included talks regarding regional issues, particularly the developments of the crisis in Yemen, Syria, and the Palestinian cause, as well as counter-terrorism efforts in the region.
In another meeting with UN Special Envoy for Syria, Staffan de Mistura, at the headquarter of Permanent Mission of the Arab Republic of Egypt to the UN, Shoukry addressed developments in the Syrian crisis, and mechanisms to find an effective and positive political solution, as well as dealing with the humanitarian challenges of the issue.