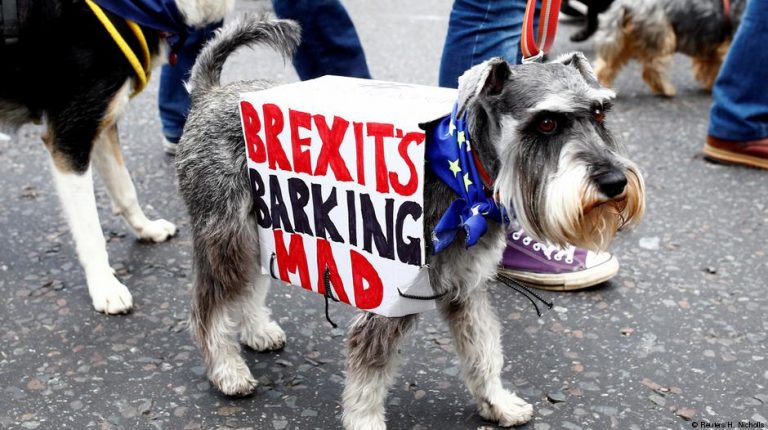 In an open letter, top musicians have warned of a "cultural jail" if the UK leaves the European Union. Dog owners also turned out in London and Glasgow to make their voices heard for a "Wooferendum" against Brexit.Top musicians on Sunday urged Prime Minister Theresa May to reverse course on Brexit and called for a second referendum on remaining inside the EU.
In an open letter drafted by Bob Geldof and signed by Ed Sheeran and Rita Ora, they warned that a no-deal Brexit could silence Britain's booming music industry inside a "self built cultural jail."
Classical music signatories included the Berlin Philharmonic's conductor for 16 years, Sir Simon Rattle and Bach-specialist John Eliot Gardiner, who has worked extensively in Europe.
The letter, published in The Observer newspaper, called on May to recognize that leaving the EU will "impact every aspect of the music industry. From touring to sales, to copyright legislation to royalty collation." The musicians claim "a botched Brexit" would seriously damage the 94-billion-pound ($123 billion, €107 billion) creative industry.
'A very serious mistake'
"We are about to make a very serious mistake regarding our giant industry and the vast pool of yet undiscovered genius that lives on this little island," the artists wrote.
"It's two-fold. One is the income it generates for this country, 94 billion pounds, contrast that to the NHS spend, of 115 billion pounds, almost the same," Geldof said in a television interview, referring to Britain's NHS universal healthcare scheme.
"This will be critically damaged. The second reason is cultural — the voice of Britain, the genuine, global British voice is music, it has been since the Beatles," he said. "That is being endangered by a recklessness which is existential and historically self-damaging."
The letter was also backed by artists including Jarvis Cocker, Brian Eno, Damon Albarn, Johnny Marr, former The Smiths guitarist, and Pink Floyd's drummer Nick Mason.
'Wooferendum'
The musicians' demands were echoed by around a thousand dogs and their owners, who marched from Waterloo station to the Houses of Parliament on Sunday to call for a second Brexit referendum.
Organizers of the "Wooferendum" march expressed concerns that Brexit will affect animals as it would lead to a shortage of vets and a rise in pet food costs. They are also worried about the possible
suspension of the EU Pet Passport scheme which currently allows more than 250,000 animals to travel to Europe with their owners.
"In a campaign, use whatever you can that helps," Alastair Campbell, a former Labour government spokesman, said.
The dog parade attracted everything from corgies and beagles to huskies and a giant leonberger. One grey schnauzer wore a banner declaring "Brexit's Barking Mad."
The dogs were encouraged to urinate on images of Brexiteers like former foreign minister Boris Johnson and ex-UK Independence Party leader Nigel Farage at several 'pee stations' along the route.
"It's nice to highlight a serious point in such a fun way — everybody loves dogs," said German university lecturer Flora Renz, who has lived in the UK for a decade.
"I hope people are going to see some sense. I don't know if a second referendum is the best solution but anything's better than what's happening right now."
ap/jm (AFP, Reuters)
Each evening at 1830 UTC, DW's editors send out a selection of the day's hard news and quality feature journalism. You can sign up to receive it directly here.