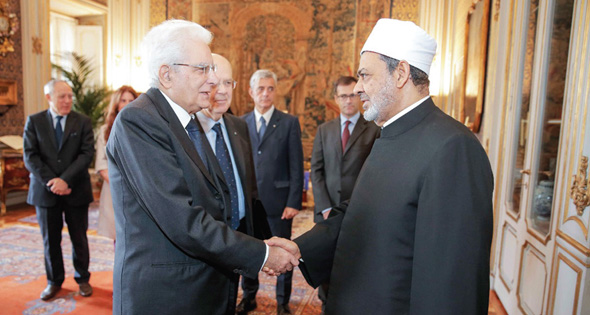 Egypt's Grand Imam, Ahmed Al-Tayeb, asserted the significance of cooperation and coordination between religious institutions across the world, to spread global peace, and ease the suffering of the poor and underprivileged individuals.
Al-Tayeb said so during his meeting with Pope Francis during his visit to Italy which started earlier this week, following his two visits to Kazakhstan and Uzbekistan.
Al-Tayeb expressed his pleasure to meet with Pope Francis, describing the Pope as a tolerant and moderate preacher, according to Al-Azhar's statement.
Both addressed enhancing cooperation between the Al-Azhar institution and the Vatican, and developing dialogue as the world is in need of communication, not isolation and exclusion, the statement noted.
Al-Tayeb also met on Tuesday Italian President Sergio Mattarella in Rome. Both addressed joint efforts to enhance the values of coexistence and dialogue, to counter the misuse of religions as an excuse for violence.
Mattarella applauded the significant role of the al-Azhar institution in countering thoughts of violence and extremism, and praised the Egyptian-Italian relations, according to Al-Azhar's statement. 
Al-Tayeb began his international tour last Monday from Kazakhstan, and participated in the Sixth Congress of Leaders of World and Traditional Religions.
In Uzbekistan, Al-Tayeb held meetings with the country's President Shavkat Mirziyoyev, as well as the country's Prime Minister and other officials.
The Grand Imam emphasised, during his meeting with Mirziyoyev, Al-Azhar's enthusiasm to cooperate and coordinate together with Uzbekistan Islamic institutions, through increasing the number of scholarships to Uzbekistani students, as well as conducting training for Uzbekistani imams on countering extremist thoughts.