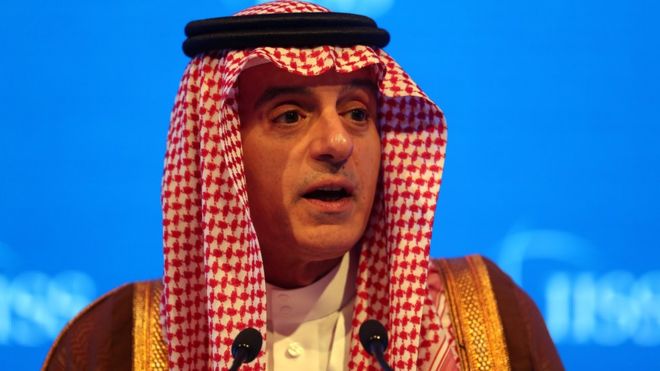 Saudi Foreign Minister Adel Al-Jubeir said on Saturday that the murderers of Jamal Khashoggi will stand trial in the kingdom. Al-Jubeir's statements came as a response to the Turkish request to hand over the killers of the prominent journalist to be tried in Turkey.
During his speech before a meeting in Bahrain, Al-Jubeir added that "all of them [killers] are Saudi citizens, and are detained in Saudi Arabia pending investigation, and will be tried in the kingdom."
On Friday, Turkish President Recep Tayyip Erdogan demanded that Riyadh hand over the 18 Saudis who are accused of killing Khashoggi.  
Jamal Khashoggi, a prominent Saudi journalist and Washington Post columnist, was killed inside his country's consulate in Istanbul, Turkey, on 2 October. Saudi Arabia related different narratives on the murder of Khashoggi. The last declared that 15 Saudi security members killed him, but we do not know where the journalist's body is until now.
Al-Jubeir criticised the international brouhaha over Khashoggi's killing, describing it as 'hysterical,' adding that investigations with the killers will take time.
Riyadh previously said that the 18 Saudi nationals accused of the incident are under investigation and will be punished.
Speaking during the security meeting in Manama, US Defence Secretary James Mattis said that Khashoggi's murder raises concerns and undermines regional stability. "With our collective interests in peace and unwavering respect for human rights in mind, the murder of Jamal Khashoggi in a diplomatic facility must concern us all," Mattis said.
Moreover, Khashoggi's family left Saudi Arabia to Washington on Friday.