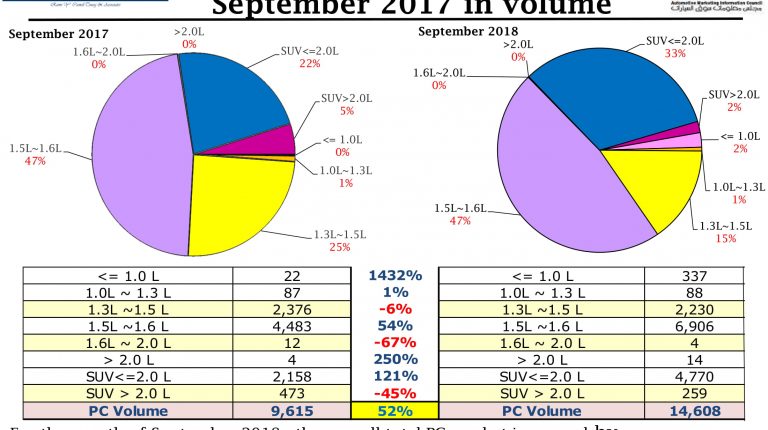 Automotive sales in Egypt reached EGP 34bn during the first nine months of the current year, according to the statistics published by the Automotive Marketing Information Council (AMIC).
The sales of the cars with engine capacity less than 1,000cc reached EGP 578,8m; between 1,000 and 1,300cc reached EGP 212m; between 1,300 and 1,500cc reached around 3.2bn; between 1,500 and 1,600cc reached around EGP 15.8bn; between 1,600 and 2,000cc reached EGP 29.4m, and less than 2,000cc, around EGP 17.8m.
Concerning sports cars for multi-usage sports utility vehicles (SUVs) with engine capacity less than 2,000cc, its sales amounted to around EGP10bn. Sales of SUV passenger cars with more than 2,000cc recorded almost EGP 3.9bn.
According to the AMIC, passenger cars priced between EGP 200,000 and EGP 300,000 marked the highest sales' percentage which reached 35,3%, representing 33.7 thousand units.
Cars whose prices amounted to over EGP 400,000 came in second place as its sales' percentage marked 30.2%, representing 28.8 thousand units.
In third place came cars priced between EGP 300,000 and 400,000, and their sales percentage were estimated by 21.8%, and units sold from this category reached 20.8 thousand units.
The fourth place was acquired by the cars priced from EGP150,000 to 200,000 whose sales' percentage was 12.2%, and units sold from this category were 11.6 thousand. The share of cars whose prices reached EGP 150,000 represented around 0.4% and 390 sold units.
Also, the automotive market witnessed an increase in the last nine months, as sales increased by 35.9% to reach 130,000 units in 2018, compared with 96,200 units in the same period of 2017, according to AMIC.
Sales of private cars hiked by 38%, recording 96,000 units, compared with 69,500 units last year.
On the other hand, bus sales grew by 17%, reaching 11,300 units compared with 9,700 units, as well as the truck sales which marked a 38% increase.
Meanwhile, locally assembled cars recorded a 18.3% increase in their sales, reaching 63,000 units, in addition to imported car sales which junped by 58%.