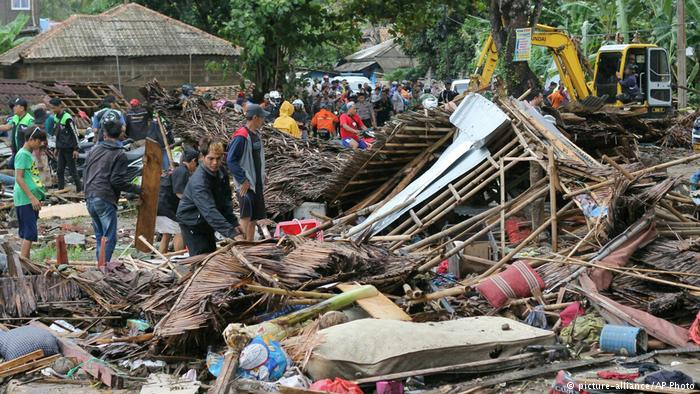 At least 222 people died in Indonesia after a tsunami hit Sunda Strait beaches on Saturday evening, the country's Disaster Mitigation Agency (BNPB) said, as reported by the ANTARA news agency on Sunday.
It hit the area between Java and Sumatra, injuring more than 700 people. At least 30 people are still missing and hundreds of homes, hotels, and other buildings have been destroyed, according to the BNPB.
The number of casualties is expected to rise as data is still coming in from areas affected by the disaster, BNPB spokesperson Sutopo Purwo Nugroho said in a statement on Sunday.
Authorities said the wave was likely caused by an eruption of Anak Krakatau volcano, possibly due to underwater landslides, as well as an abnormal tidal surge due to a new moon. The volcano erupted about 24 minutes before the tsunami, scientists said.
Anak Krakatoa is a small volcanic island that emerged half a century after Krakatoa's 1883 eruption, which killed over 36,000 people. Indonesia's geological agency said that Anak Krakatoa had been showing signs of heightened activity for days, spewing plumes of ash thousands of metres into the air.
Indonesia was the nation worst hit by the earthquake-triggered Asian tsunami in December 2004, which killed 168,000 people in the Aceh province alone, which at the time was caused by a 9.1 magnitude earthquake.