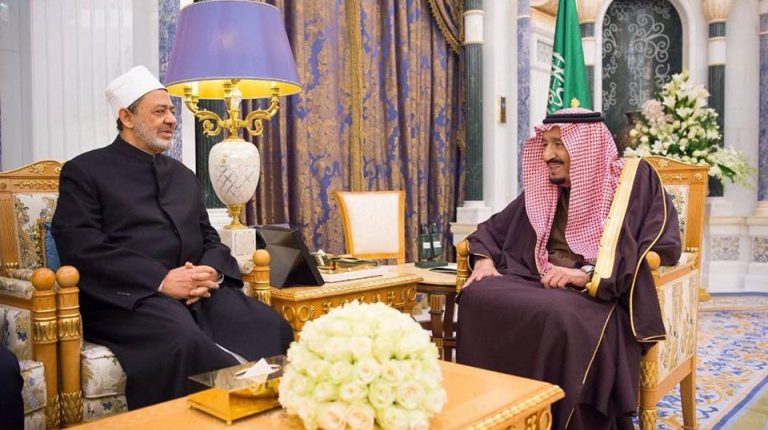 Saudi Arabia's King Salman received the Grand Imam of Al-Azhar on Monday, Ahmed Al-Tayeb, in the Saudi capital Riyadh, according to Al-Azhar's statement.
During the meeting, King Salman expressed his pleasure over Al-Tayeb's visit, asserting his appreciation for the Grand Imam's efforts in spreading moderate thinking, as well as his openness towards the other, the statement declared.
King Salman emphasised his willingness to coordinate and cooperate with the Egyptian leadership in order to combat extremism.
Meanwhile, Al-Tayeb praised the Egyptian and Saudi relations, referring to the two leaders and people.
Al-Tayeb expressed Al-Azhar's interest to coordinate with Saudi Arabia in order to correct the extremist thoughts and misconceptions promoted by terrorist groups, and enhance the concept of dialogue between different cultures.
Al-Tayeb said that Egypt and Saudi Arabia represent the pillar of the Arab national security, adding that the kingdom's stances in supporting the Arab and Islamic issues contribute towards thwarting plans to divide the region.
During his visit to Saudi Arabia, Al-Tayeb is scheduled to meet with a number of Saudi religious scholars.