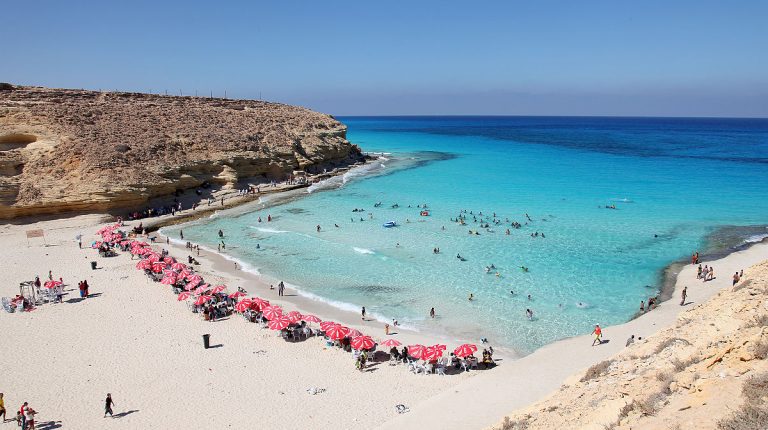 Arab countries are rich with breath-taking beaches that extend from the borders of Asia, with vast oceans and lakes, to the dazzling Red Sea in Africa.
FlightNetwork, an online travel website, listed Africa's and Asia's top beaches by surveying over 1,200 journalists, editors, bloggers, and agencies. From this, Forbes Middle East extracted the top 10 beaches in the Arab world.
Egypt had four of the top beaches across its beautiful coastline, followed by Jordan, Algeria, Oman, Tunisia, Morocco, and Saudi Arabia with one destination each.
Dead Sea, Jordan
The Dead Sea was ranked the top beach in the Arab world and the 10th best in Asia. Located in Jordan, the Dead Sea is not really a sea but a lake. Nonetheless, it is one of the most famous beaches in the world for its salty, mineral-rich water, which allows visitors to float effortlessly. Visitors can also appreciate the fact that it is at 400m below sea level, which is considered the lowest point for a beach on dry land.  
Falaises d'El Marsa a Alger, Algeria
The grey-speckled cliffs hovering above Falaises d'El Marsa beach outside of Alger serve as the backbone of this magnificent strip of sand. The frothy, white-capped waves crashing into these rocks are home to an abundance of marine life, and are wonderful for swimming, kayaking and snorkelling.
Fizayah Beach, Oman
Fizayah Beach is located at the end of a dusty hairpin road. After the notoriously beautiful but adventurous drive through the mountains, visitors reach the dirt path, which leads to 5km of untouched white-sand, kissed by the turquoise blue waters of the Arabian Sea.
Sharm El Luli, Egypt
The main draw of Sharm El Luli is that it is completely undeveloped. There are no shops, hotels or restaurants to distract from its natural beauty. The destination is distinguished by vivid yellow sands and water in so many shades of blue, along with the smooth shore speckled with a sampling of rock formations; shallow warm waters, and the vast coral reef where visitors snorkel and dive.
Blue Hole, Egypt
Dahab is famous for the Blue Hole, a 110m dive site drawing adventurous travellers from around the globe, and is considered to be one of the prime dive spots in the world.
Located on the Gulf of Aqaba in Egypt, it is rich in coral and diverse in marine life, drawing visitors who come to enjoy the tranquil beauty both above and below water. Besides diving, windsurfing draws people to sail along its golden sandy shores and enjoy the laid-back vibe due in part to its native Bedouin tribes that have lived here for 800 years.
Vibrant teal water kisses the silvery sand at Djerba beach in Tunisia. With consistent water temperature year-round and stunning views, this mystical island gives visitors an unforgettable experience.
When exploring or diving into the refreshing water, visitors get a taste of what Tunisia's marine ecosystem looks like. From camels and crocodiles to eclectic art, this island gives the same feeling as if you have landed in Peter Pan's Neverland.
Fjord Bay, Egypt
Fjord Bay in Taba, Egypt is a crystal-blue gem surrounded by harsh, beautiful desert, while the cotton-candy sky highlights the brilliant water colour and the coral reefs below. Over 15km from any city, Fjord Bay is home to some of the best diving sites in the world. Dive 12m to the banana-shaped reef or dive 24m to the infamous Fjord hole to enjoy watching thousands of unique marine creatures.
Legzira Beach, Morocco
This remote stretch of beach takes travellers back in time to a long lost land that was undiscovered by humans. The highlights are two massive red stone arches that stretch from cliffs into the sea. These impressive giants were formed from erosion, and are wrapped in cascading waves during low tide. Sunsets at Legzira Beach are a must-see as the sun causes the red stone to glow with an exquisite flare.
Agiba Beach, Egypt
Agiba beach retains Egypt's cultural essence — tucked on the Egyptian shore alongside the breath-taking Mediterranean Sea. Located in Marsa Matruh, the beach is mere metres from Cleopatra's Rock. Stand on the famous rock and look over the water like Cleopatra did 2,000 years ago, imagining how she lived in this luxury in ancient Egypt. "Agiba" means miracle in Arabic.
Al Fanateer Beach, Saudi Arabia
Al Fanateer is the most popular coastal hub for locals and expats in the region. The impeccably clean beach is lined with palm trees, and filled with green areas that are perfect for family picnics or barbeques. With various water sports activities for visitors, the beach is also located close to many stores, malls, hotels, restaurants, and cafes.