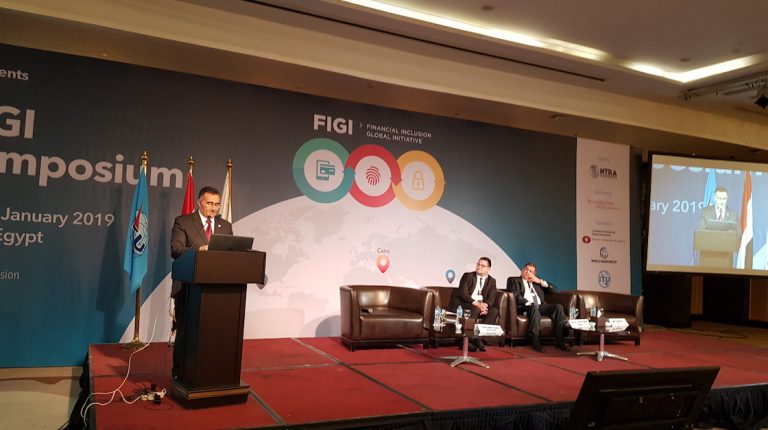 Egypt, represented by the National Telecom Regulatory Authority (NTRA), hosts the second edition of the Financial Inclusion Global Initiative (FIGI) Symposium on January 22-24.
This year the theme is 'Enabling Inclusive Digital Financial Services Ecosystems: National and Thematic Insights'.
The symposium is organised by the International Telecommunication Union (ITU), jointly with the World Bank Group and the Committee on Payments and Market Infrastructures with the support of the Bill and Melinda Gates Foundation.
Based in Geneva, the ITU is the leading United Nations agency for ICT with 191member states and over 700 sector members and associates, the ITU's role is to enable the global growth and sustained development of the ICT.
During the opening ceremony, Mustafa Abdel-Wahed, the NTRA's acting executive president delivered the speech of Amr Talaat the minister of communications and information technology, who could not attend.
Abdel-Wahed highlighted that financial technology allows the shift to e-services across the country and make it available all the time, "Egypt is looking at Vision 2030 and the economic reform programme to become a leading country in the region in the area of digital payments" he added.
He also pointed out the role of the information and communications technology (ICT) sector plays in providing a secure and efficient digital infrastructure which enables the state to integrate the grey economy into the official economic sector and reduce poverty and inflation by decreasing informal trade, and additionally transiting to a non-monetary system to combat and define corruption levels.
Egypt is one of three countries, alongside China and Mexico, receiving technical assistance from the FIGI community in promoting digital financial inclusion.
The experiences of China, Egypt and Mexico as part of this FIGI 'operational work stream' are expected to form case studies of great value to other countries around the world.
There are 20 million active mobile payment accounts in Egypt and the country's Central Bank has highlighted its ambition to increase this figure to 40 million over the coming two years.
Furthermore, the symposium aims to provide a unique platform to share lessons learned about the different digital financial models and services, the regulatory sandbox approach, ways to mitigate risks in fast changing ICT and digital payment environments, and the impact of emerging technologies on the ecosystem.
The symposium brings together telecom/ICT and financial regulators, policymakers, digital financial services providers, payment system organisations and other digital financial services stakeholders from around the world.