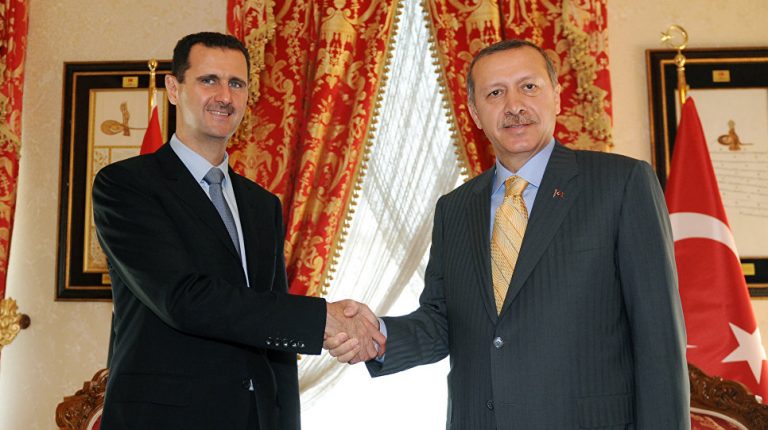 The Syrian government expressed its readiness to reactivate its previous Adana security agreement with Turkey if the latter pulled its forces out of Syrian territory and stopped supporting opposition fighters.
Syria's Ministry of Foreign Affairs said in a Sunday statement that Damascus is committed to the Adana agreement and would stop hosting the Kurdistan Workers' Party (PKK)-which was designated a terrorist group in Turkey-on its territory.
The Adana agreement, signed by Turkey and Syria in October 1998, aimed to organise movement through the borders of neighbouring countries, and determine the water shares of the Euphrates river which springs from the Anatolia mountains in Turkey. The agreement also included articles about cooperation in confronting crimes and terrorism.
The historical agreement between the two countries was suspended since the beginning of 2011 uprising in Syria.  
However, the Syrian government noted that reactivating the Adana agreement depends on stopping the Turkish support for Syrian opposition fighters who seek to overthrow Syrian President Bashar Al-Assad. Damascus also demanded that Turkey withdraws its forces from north-western Syria.
During their meeting in Turkey last week, Russian President Vladimir Putin and his Turkish counterpart Recep Tayyip Erdogan discussed the possibility of reactivating the Adana agreement. Russia is the main supporter of Al-Assad's regime and has a military base and troops in Syria.
"The Arab Republic of Syria asserts that any activation of this [Adana] agreement should be through restoring the situation in the borders as it was [before 2011] and the Turkish commitment to stop its support, funding, and training of terrorists, as well as the withdrawal of its forces from the Syrian territory, in order to reach an agreement to secure the borders between the two countries," according to the statement.
Syria has been suffering from unrest since 2011. The regime oppressed the uprising leaving thousands of deaths and hundreds of thousands of refugees. The war-torn country attracted several militant groups from all over the world which are now either fighting against the regime or against each other.