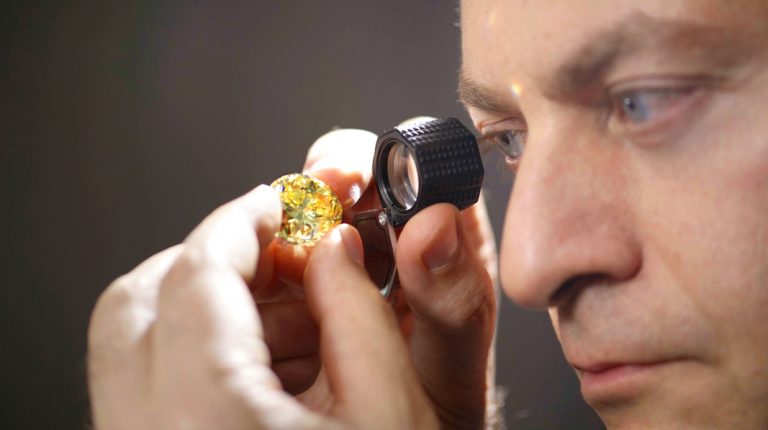 For many years, several generations have passed down stories about dragons living in faraway kingdoms. The tales spoke of the creature's power, wisdom, and good fortune. Meanwhile, deep within the earth's upper mantle, extreme heat, and pressure cocooned a stone that was destined to become the world's largest graded diamond to date by the Gemmological Institute of America (GIA). The exceptionally polished 54.21 carat round brilliant cut, fancy vivid yellow – Mouawad Dragon – is as magical and fierce as the name might suggest.
The precious stone was discovered at the ancient alluvial deposits in South Africa, a land known for harbouring a number of the world's largest diamonds. After emerging on the surface of the wealthy land, the rough stone immediately received the kiss of life from Mouawad's master cutters. Over six months, the intricate process of planning and cutting was executed in order to transform the crystal into a breath-taking 54.21 carat gem. Aside from its size, the diamond's rich colour is rendered the most desirable and rare hue on the yellow diamond spectrum by experts.
The diamond's name is inspired by its resemblance to ancient myths, which tackle the mystical creature and its magical powers. After crafting such extraordinary beauty, the jewellery experts are currently working on a master-piece design that can match the diamond's value. The Mouawad Dragon is set to be included in the jeweller's coveted collection, which includes the 51.12 carat D Flawless Dynasty diamond, the 245.35 carat Jubilee Diamond, the 135.92 carat Queen of Holland diamond, the 69.42 carat Taylor Burton, and the largest cushion shaped D IF weighting 218.08 carat diamond.
Mouawad is notorious for creating priceless jewellery and timepieces for royalty, high society, and celebrities, who seek quality and innovation. The family business has been offering unique crafting and an excellence in gemmology for four consecutive generations. The family's name is already associated with a handful of the world's record-breaking precious creations, such as the $3.8m worth Mouawad 1001 Nights Diamond Purse, the $11m worth Very Sexy Fantasy Bra, and the Mouawad Splendour ― the world's most expensive single pear-shaped diamond in 1990 which is worth $12.76m.
On the other hand, Robert Mouawad received the Lifetime Achievement award from the GIA. The GIA campus was also named after him due to his contribution to the industry.