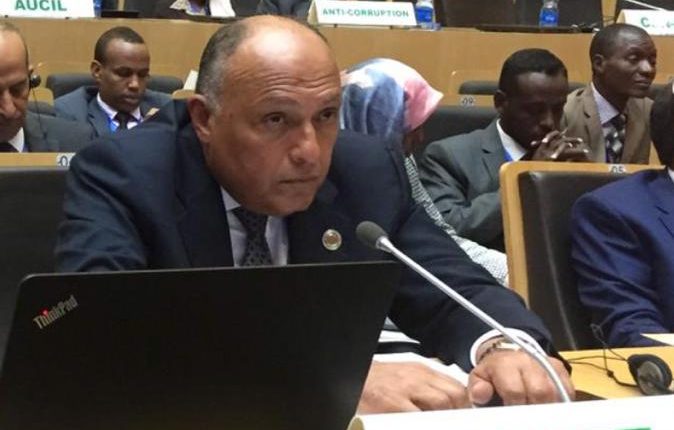 Egypt's Minister of Foreign Affairs, Sameh Shoukry, participated on Friday in the 34th Ordinary Session of the Executive Council of the African Union (AU) in Addis Ababa, Ethiopia.
Shoukry also attended numerous sessions to discuss AU reports to be presented at the 32nd AU Summit on Sunday and Monday, the foreign ministry's spokesperson, Ahmed Hafez, said in statement
He added that the 34th meeting's agenda included discussing the technical report on the African country that will host the African space agency, after Egypt was elected by the African countries to host the agency.
Moreover, Shoukry met his Tanzanian counterpart, Augustine Mahiga, on the sidelines of the preparatory meetings of the AU Summit. They addressed issues of mutual concern and bilateral relations between the two countries.
Shoukry expressed Egypt's keenness on boosting its relations with Tanzania, inviting the Tanzanian president to visit Egypt. The foreign minister said that Egypt is looking for finalising the current negotiations with Tanzania regarding a number of agricultural projects.
According to the ministry's statement, both officials discussed some mutual mega projects, such as the proposal of establishing navigational canal which will connect the Victoria Lake with the Mediterranean Sea.   
Shoukry also met with his South African counterpart, Lindiwe Sisulu, to discuss cooperation between the two countries.