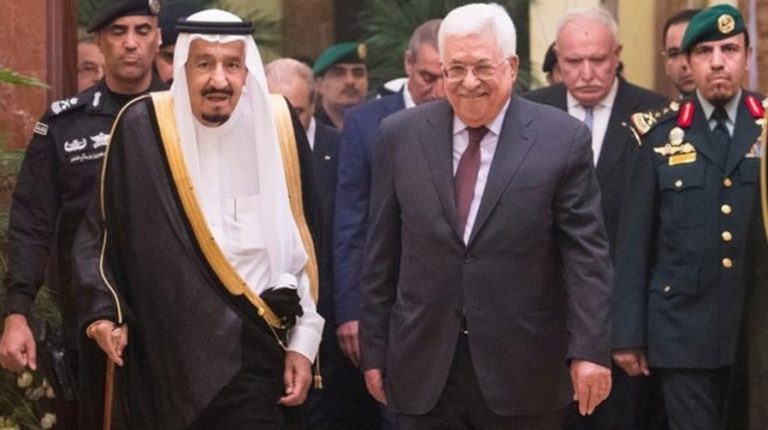 The Palestinian Authority's President, Mahmoud Abbas, headed to Saudi Arabia on Monday on an official two-day visit, Palestinian media reported.
Abbas is set to meet Saudi Arabia's King Salman in Riyadh to discuss recent political updates in Palestinian territories and the Palestinian cause, Samaa news outlet cited the Palestinian ambassador in Riyadh, Bassam al-Agha.
Al-Agha added that the visit aims to resume coordination between the two leaders to reach a solution for the Palestinian cause. The meeting will be attended by a number of Saudi high-profile officials, ministers, and princes.
Meanwhile, al-Agha asserted that the kingdom stands firmly for Palestinians and the Palestinian legitimacy, adopting all initiatives aimed at achieving the hopes of Palestinians.
Earlier on Sunday, Abbas called on the African Union (AU) and its member states to support holding an international conference to sponsor the peace process, sending observers to monitor the upcoming elections in Palestine's West Bank and Gaza. 
In Addis Ababa, during his speech at the AU 32rd summit in, Abbas warned against Israeli attempts to change the historical identity of Jerusalem, which violates international laws and the resolutions of the UN Security Council particularly resolution 478 of1980.
Earlier in January, Abbas's Fatah party recommended the formation of a new national cabinet composed of Palestinian independent figures and members of the Palestine Liberation Organisation, without the Hamas faction and the Islamic Jihad movement.
The previous Palestinian government was formed in 2014 with the support of the Fatah and Hamas factions. At the end of last month, Prime Minister Rami Hamdallah and his government resigned.