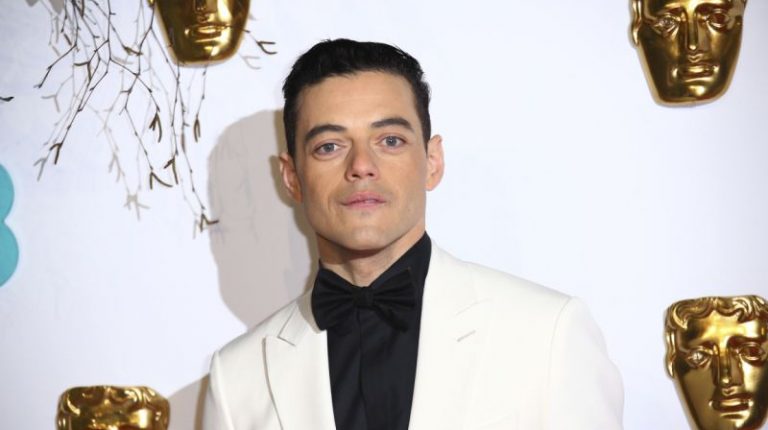 The winners of the EE British Academy Film Awards have been announced in the ceremony hosted by Joanna Lumley at the Royal Albert Hall, London, on Sunday.
The Favourite was named Outstanding British Film, with Olivia Colman receiving the BAFTA for Leading Actress, Rachel Weisz taking Supporting Actress and Deborah Davis and Tony McNamara winning Original Screenplay. Sandy Powell won Costume Design, Fiona Crombie and Alice Felton won Production Design, and Nadia Stacey won Makeup and Hair.
Roma won four awards: Best Film, Director, Cinematography and Film Not in the English Language. Alfonso Cuarón won in each of these categories.
Rami Malik won Leading Actor for his performance as Freddie Mercury in Bohemian Rhapsody; the film also won the award for Sound.
Supporting Actor went to Mahershala Ali for his performance in Green Book.
BlacKkKlansman won Adapted Screenplay. Spider-Man: Into the Spider-Verse took the award for Animated Film, and Documentary was won by Free Solo.
A Star Is Born won Original Music and Vice took the BAFTA for Editing. Black Panther received the BAFTA for Special Visual Effects.
Writer/Director Michael Pearce and Producer Lauren Dark received the award for Outstanding Debut by a British Writer, Director or Producer for Beast.
The British Short Film award went to 73 Cows, while the BAFTA for British Short Animation was won by Roughhouse.
The Special Award for Outstanding British Contribution to Cinema was presented to Elizabeth Karlsen and Stephen Woolley, a producing partnership who have created some of the most iconic British films of recent years, including The Crying Game, Company of Wolves, Little Voice, Scandal, Carol, and Colette.
The Fellowship, the highest honour the Academy can bestow, was presented to Editor Thelma Schoonmaker by HRH The Duke of Cambridge, President of BAFTA, and Cate Blanchett.
The EE Rising Star Award voted for by the public, went to Letitia Wright.
The ceremony, which was hosted by Joanna Lumley, was held at London's Royal Albert Hall and featured performances by Cirque du Soleil and Jess Gillam.
As part of BAFTA's year-round programme of learning events and initiatives, over 80 of this year's nominees took part in more than 14 'BAFTA Film: The Sessions' on Saturday 9 February. The sessions saw the nominees discuss their craft in interviews that will be available online on BAFTA Guru in the coming days.
In addition, the nominated short films are now available to view in Curzon cinemas around the country and online.
Also during the ceremony, BAFTA and Oscar-winning editor Thelma Schoonmaker was honoured with the Fellowship at the EE British Academy Film awards.
Awarded annually, the Fellowship is the highest accolade bestowed by BAFTA upon an individual in recognition of an outstanding and exceptional contribution to film, games, or television. Ridley Scott received the Fellowship at last year's Film awards.
Schoonmaker, said I am staggered to be asked to join such an illustrious group as the BAFTA Fellows and particularly moved and honoured to be joining two of the most important people in my life – my director, Martin Scorsese, and my late husband, Michael Powell, all of whom have been given BAFTA Fellowships."
"The British cinema has been a huge influence on Martin Scorsese and through his teachings on me, I am blessed to be able to help him with the continuing restoration of the Powell and Pressburger legacy.  I give my deepest thanks to BAFTA for honouring that work and my work as Scorsese's editor with this Fellowship," she added.
Amanda Berry OBE, Chief Executive of BAFTA, said "we are thrilled to honour Thelma Schoonmaker with a BAFTA Fellowship, celebrating her career as one of the film industry's most respected editors responsible for some of cinema's most iconic and treasured moments."
Thelma Schoonmaker's acclaimed career has spanned over 50 years, and her celebrated partnership with Martin Scorsese has garnered nominations for nine BAFTA awards, winning Best Editing in 1982 for Raging Bull, Goodfellas in 1991 and seven Academy Award nominations, winning the award for Raging Bull (1981), The Aviator (2005), and The Departed (2007).
Born in Algiers in 1940, Schoonmaker moved to the United States as a teenager and attended Cornell University, studying Political Science and Russian language. After graduating from Cornell in 1961, she began a course at Columbia University in Primitive Art. During this time Schoonmaker responded to an advertisement in The New York Times for a trainee assistant film editor and got the job. She then signed up for a brief six-week course in film-making at New York University, where she came into contact with a young filmmaker called Martin Scorsese after a professor asked that she could help him salvage the badly mangled negative of his student film; What's a Nice Girl Like You Doing in a Place Like This? Subsequently, in 1967 Schoonmaker went on to help Scorsese edit his first feature film Who's That Knocking at My Door marking the beginning of an illustrious filmmaking partnership, which continues to this day over 50 years later.
While at New York University Schoonmaker also met filmmaker Michael Wadleigh and later in 1970 supervised the editing of his influential music documentary Woodstock, earning Schoonmaker her first Academy Award nomination for Best Editing in 1971.
Despite this early success the first part of Schoonmaker's career was difficult; joining the Motion Picture Editors Guild in Los Angeles was challenging with Schoonmaker not meeting the entry requirements despite her Academy Award nomination, meaning she was unable to work in Los Angeles. Consequently, there was a 12-year gap between her early work with Scorsese, until Raging Bull's producer Irwin Winkler resolved the Guild issue so she could edit the film.
Schoonmaker has gone on to edit every single feature film directed by Martin Scorsese since Raging Bull. Schoonmaker's work on The King of Comedy, Cape Fear, Gangs of New York, The Aviator, The Departed, Hugo, and The Wolf of Wall Street all earned her BAFTA Award nominations with Schoonmaker winning the BAFTA for Raging Bull and Goodfellas.  Schoonmaker is also the recipient of seven Academy Award nominations winning three Oscars for Raging Bull, The Aviator, and The Departed.
Schoonmaker's partnership with Martin Scorsese continues with The Irishman which is set to be released by Netflix in 2019.
Schoonmaker was married to British filmmaker Michael Powell from 1984 until his death in 1990, and since Powell's death she has worked tirelessly honouring his legacy and preserving the films of Powell and Pressburger.