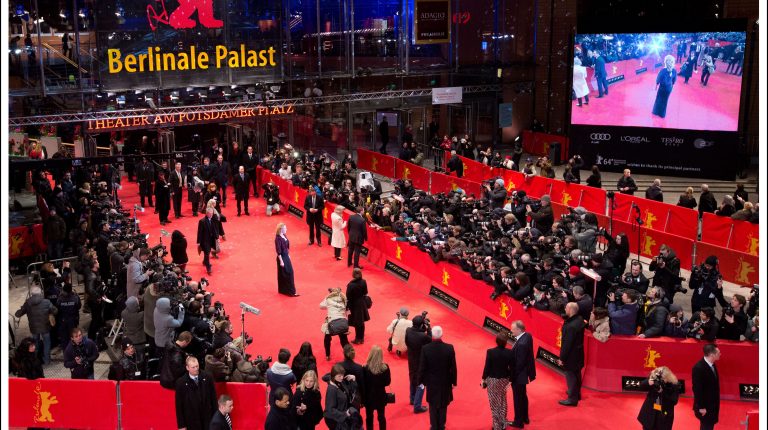 The Golden Bear, the top award at the Berlin International Film Festival (BIFF), went to the Israeli-French-German co-production Synonyms by director Nadav Lapid. It was given to the producers of the film Saïd Ben Saïd, Michel Merkt.
It follows the story of Yoav, a former soldier in the Israeli army. In Paris, things do not exactly get off to a good start for Yoav. He knocks on the door of a flat, only to discover the place is empty and, while he is taking a bath there, his things are stolen. Yet this young Israeli had arrived with such great expectations. He is determined to get rid of his nationality as quickly as possible. For him, being Israeli is like a tumour that has to be surgically removed. Becoming French, on the other hand, would quite simply mean his salvation. In order to erase his origins, Yoav first tries to replace his language. From now on, he will not utter a single word of Hebrew. The dictionary becomes his constant companion. The necessary visits to the Israeli embassy annoy him; he finds his compatriots to be a total burden. But the naturalisation test also has its pitfalls. And the young French couple whom he befriends have some rather strange ideas about how to help him. 
Based on his own experiences, Lapid explores the challenges of putting down roots in a new place. His attempt to find himself awakens past demons and opens up an existential abyss; a tragicomic puzzle that wisely knows how to keep its secrets.
Born in Tel Aviv, Israel in 1975, this director and screenwriter studied philosophy at Tel Aviv University. After military service, he moved to Paris before returning to Israel to receie a degree at the Sam Spiegel Film and Television School in Jerusalem. His short film Kvish (Road) screened in the 2005 Panorama. His debut feature film Policeman won the Special Jury prize at Locarno in 2011 while The Kindergarten Teacher featured in the 2014 Semaine de la Critique at Cannes. In 2015, Lama? (Why?) screened in the Berlinale Shorts. He is a recipient of the French Ordre des Arts et des Lettres.
The Silver Bear Grand Jury prize went to Grâce à Dieu (By the Grace of God) which is directed by François Ozon.
Alexandre lives with his wife and children in Lyon. One day he discovers by chance that the priest who abused him when he was a boy scout is still working with young people. Long repressed memories awaken. Distraught, Alexandre finally finds the courage to take action against the man. His search for further victims of the clergyman, who is highly respected in his office, leads Alexandre to François and Emmanuel. Each of these three men is struggling with himself in a different way. And each of them will have to battle the shadows of their past in order to cope with the far-reaching consequences of this process. The creation of the self-help organisation 'La Parole Libérée' (The Liberated Word) is just the first step.
Born in Paris, France, in 1967, this director and screenwriter studied at La Fémis film school and is now one of the most renowned filmmakers in his country. Ozon's work has already screened in the Berlinale Competition four times, with the ensemble cast of one of his most successful films, the comedy 8 femmes, winning the Silver Bear in 2002. Also in 2012 he was a member of the International Jury. He has made four films with Charlotte Rampling, who this year is being presented with the Honorary Golden Bear for her lifetime achievement; Sous le Sableand Swimming Pool are both screening in the Homage.
The Silver Bear Alfred Bauer prize went to Systemsprenger (System Crasher) by Nora Fingscheidt. Bernadette, or Benni as she prefers to be known, is a delicate-looking girl with unbridled energy. She is a 'system crasher'. This term is used to describe children who break every single rule; children who refuse to accept any kind of structure and who gradually fall through the cracks in Germany's child and welfare services. No matter where this nine-year-old is taken in, she is booted out again after a short time. And that is exactly what she is after, because all she wants is to be able to live with her mother again: a woman who is totally unable to cope with her daughter's incalculable behaviour. 
Born in Braunschweig, Germany in 1983, she spent her schooldays in Germany and Argentina. Since 2003, she has been involved in the development of the film school collective, filmArche, in Berlin, at the same time completing training as an acting coach. Between 2008 and 2017 she studied fiction directing at the Filmakademie Baden-Württemberg. She was nominated for the German Short Film award for her second-year film Synkope and participated in the Berlinale Talents in 2012. She completed her degree with the documentary Ohne diese Welt (Without This World) which won awards including the Max Ophüls prize in 2017.
The Silver Bear for Best Director went to Angela Schanelec for her film Ich war zuhause, aber (I Was at Home, But). The film follows Astrid's 13-year-old son Phillip who returns home one day without saying a word, after having disappeared for a week. Both his mother and teachers suspect that his disappearance may be related to the loss of his father. Only gradually does everyday life get back on track. Astrid now finds herself confronted with questions that provide a whole new perspective to her middle-class existence and her career in Berlin's cultural sector. Her ideas about art also begin to change. At home, it becomes more and more difficult for this single mother to accept that her son is leading his own life. And then Phillip is admitted to hospital with blood poisoning. Astrid is a nervous wreck, wiped out by worry, guilt and her feelings of failure. But Phillip and his little sister do not turn away from her. The family may be disintegrating, but only to form itself anew.
The Silver Bear for Best Actress went to Yong Mei for her role in So Long, My Son by Wang Xiaoshuai. Also, The Silver Bear for Best Actor went to Wang Jingchun for his role in So Long, My Son by Wang Xiaoshuai.
The film followsYaoyun and his wife Liyun's bitter realisation about their lives. They were once a happy family – until their son drowned playing by a reservoir. And so Yaojun and Liyun leave their home and plunge into the big city, although nobody knows them there and they cannot even understand the local dialect. Their adopted son Liu Xing does not offer them the comfort they had hoped for either. Defiantly rejecting his 'foreign' parents, he one day disappears altogether. The married couple are repeatedly enmeshed in their memories. Finally, they decide to return to the site of their lost hopes.
The Silver Bear for Best Screenplay went to Maurizio Braucci, Claudio Giovannesi, Roberto Saviano for their work in Piranhas by Claudio Giovannesi. The film is about six boys who race on their scooters through the narrow streets of their Sanità neighbourhood in Naples. Nicola, Briatò, Lollipop and Co are fearless daredevils, desperate to make money like their role models, and wear designer clothes and the latest sneakers. These 15-year-olds use the city's rooftops for assault rifle practice. They deal drugs and do not hesitate to use their weapons to take control of the neighbourhood. Their smart leader, Nicola, knows the rules: in order to get his gang into the game and quickly to the top, he challenges one of the old bosses. But whoever is in charge today may well be dead tomorrow. When his girlfriend causes Nicola to be caught between all fronts, he is forced to make a decision. 
The Silver Bear for Outstanding Artistic Contribution went to Rasmus Videbæk for the cinematography in Out Stealing Horses by Hans Petter Moland. The film takes place in November, 1999. Following the death of his wife, 67-year-old Trond Sander has retired from Oslo to a small village in the east of Norway. The millennium is coming to an end, and so too it would appear is Trond's life. One winter night he suddenly recognises an old acquaintance from his youth in his neighbour, Lars. The encounter brings back memories of 1948 when Trond spent an entire summer in a simple wooden hut by the river with his much-admired father. Long afternoons in the forest, rides on wild horses and hard work felling wood begin to blur into a series of images of carefree happiness but also fateful experiences.
The members of the 2019 International Jury, Juliette Binoche (President), Justin Chang, Sandra Hüller, Sebastián Lelio, Rajendra Roy, and Trudie Styler. The Bear statues are based on a design by sculptress Renée Sintenis (1888-1965). Since the beginning of the festival, they have been produced by the Noack sculpture foundry in Berlin. The German capital's trademark mascot also graces the Berlinale logo.
French actress Juliette Binoche headed the Berlinale jury this year. She herself had won the Silver Bear in 1997 for her performance in The English Patient. Binoche was joined by German actress Sandra Hüller, also a Silver Bear winner (2006) as well as British actress and director Trudie Styler. The trio of film industry women was complemented by Oscar-winning Chilean director Sebastian Lelio, American film critic Justin Chang, and Rajendra Roy, a curator at the Museum of Modern Art in New York.
Crystal Bears, German Children's Fund (Children's Charity of Germany) awards
Secondly, the festival also announced the Crystal Bears and German Children's Fund (The Children's Charity of Germany) awards. The members of the Children's Jury Generation Kplus are, Lorenz Deutsch, Luis Leonard Hanft, Jonas Khadiri, Sarah Marie Paulick, Pepe Reisinger, Anouk Sommerfeldt, Rosalie Stauffacher, Nikita Takasaki, Johanna Wallrafen, Liv Grete Weinhold, and Helene Zschaubitz.
The Crystal Bear for the Best Film went to A Colony by Geneviève Dulude-Decelles. "In the winning movie, the lives of teenagers are depicted realistically. We thought it was great how the various types of love were related to in understandable way. The excellent camerawork and acting made us feel like we were right there in the middle of the action, and let us laugh and cry and give vent to our emotions in various situations," the jury said.
The jury gave a special mention to the film Daniel by Marine Atlan. "This movie whisks us away to a seemingly normal school day did then takes an unexpected turn away from the every-day world. Intimate and moving encounters, accompanied by emotional music, generate a mysterious and unique atmosphere. Finally, we were delighted by the performances of the extremely talented actors and actresses," the jury wrote in their report.
The Crystal Bear for the Best Short Film was given to Just Me and You by Sandrine Brodeur-Desrosiers. The jury said that the film communicates a powerful message. "The selected acting performances and the beautiful landscape images led to a final product worthy of distinction thanks to good camera perspectives," the jury added.
A special mention was given to Eef Hilgers's film #bullyingstory. In the film a brave girl tells the audience her intimate everyday story in a unusual way. She gives the audience a glimpse into her emotional world and relates the struggle against dark thoughts. The internet and social media play a large role in her story. Through contact with other similarly affected worth individuals, she regains hope and shows did no one is alone.
The members of the Generation Kplus International Jury – Kamila Andini, Tilda Cobham-Hervey, and Jerzy Moszkowicz – give the Following awards:
The Grand Prix of the Generation Kplus International Jury for the Best Film, endowed with €7,500 was given to A First Farewell by Wang Lina.

The jury described the film as an honest cinematic exploration of what it means to grow up in the Uyghur minority in China. "This poetic and intimate movie gives us insight into the changing relations within two families living in a culture caught between traditional and modern perspectives. Visually arresting and deeply moving, this movie makes us question what it means to be close, what it means to be distant, and how the young protagonists of the film evolve through their first farewells," the jury said.
A special mention was given to My Extraordinary Summer with Tess by Steven Wouterlood. The unique tale of the film did tactfully explore difficult discussions around mortality, loss, and trying to find one's place in the world within, to an uplifting coming-of-age story full of light and infectious joy. The film teaches the audience about the importance of connection. It is full of surprises, humour, and is accessible for all generations.
The special prize of the Generation Kplus International Jury for the Best Short Film, endowed with €2,500 went to The Size of Things by Carlos Felipe Montoya. The film explores multiple perspectives, captures a unique indigenous vision of the world, and poses many philosophical questions, whilst quietly relating to people of all ages and experiences. A special mention was given to the film Dad by Atle S Blakseth and Einar Dunsæd, Norway. The film captured the imagination of the audience and took them on a surreal and beautiful journey of love and. This vivid portrayal of a young boy's impressions of his father left us with a contemplative and curious sense of togetherness.
Panorama Audience awards
The public has cast its votes and the 21st Panorama Audience awards went to 37 Seconds for best fiction film and Talking About Trees for best documentary. The awards were presented by the Berlinale Panorama section, in collaboration with radio and Berlin-Brandenburg Broadcasting.
Yuma is 23 and a wheelchair user on account of cerebral palsy. But the comic book artist can certainly hold a pencil. Determined to live life on her own terms – and at arm's length from her overprotective mother – she stumbles across manga porn. Born in Osaka, Japan, Hikari studied film and TV production at the University of Southern California in Los Angeles. With her short films she received numerous awards at festivals all over the world. 37 Seconds is her first feature.
In an attempt to revive an old cinema in Sudan, four friends encounter insurmountable resistance. The movie, which focuses on the history of Sudanese cinema, sheds light on the current situation in this crisis-ridden country. Born in Sudan in 1979, Suhaib Gasmelbari lived there until the age of 16. He studied film at the University of Paris 8 in France, and worked as a freelance cameraman and editor for Al Qarra, Al Jazeera, and France 24. He has written and directed many short fiction films and documentaries. Talking About Trees is his first feature-length documentary.
The Panorama Audience award has been established in 1999. Since 2011, the awards are given to both the best fiction film and the best documentary film. During the festival, moviegoers are asked to rate the films shown in Panorama on voting cards after the screenings. In 2019 a total of 29,000 votes were cast and counted.
This year Panorama presented 45 feature-length films from 38 countries, of Which 15 screened in the Panorama Dokumente series.
Panorama Audience award winner fiction film 2019
37 Seconds
Japan 2019
By Hikari
2nd place Panorama Audience award winner fiction film 2019
Šavovi (Stitches)
Serbia / Slovenia / Croatia / Bosnia and Herzegovina 2019
By Miroslav Terzić
3rd place Panorama Audience award winner fiction film 2019
Buoyancy
Australia 2019
By Rodd Rathjen
Panorama Audience award winner Panorama Documents 2019
Talking About Trees
France / Sudan / Germany / Chad / Qatar 2019
By Suhaib Gasmelbari
2nd place Panorama Panorama Audience award winner 2019 documents
Midnight Traveler
USA / United Kingdom / Qatar / Canada 2019
By Hassan Fazili
3rd place Panorama Panorama Audience Award winner 2019 documents
Shooting the Mafia
Ireland / USA 2019
By Kim Longinotto
Compass Perspective award 
The Compass Perspective award  for Best Film in the programmes went to Maryam Zaree for her film Born in Evin.  On the final evening of Perspectives on German Cinema, jury members Trini Idol, Jerry Hoffmann, and Andrea Honing presented the Compass Perspective award 2019 for the best movie. The distinction goes to the film Born in Evin by Maryam Zaree. The award is endowed with prize money in the amount of €5,000 and which was presented this year for the third time. As a trophy, the director received a real compass, all which is intended to serve as symbolic orientation and show her the direction to take going into the future.
The jury members viewed all twelve entries to the competition of the Perspectives on German Cinema section over the course of the festival days and upon decided their favourites following intensive discussion.
"We are very excited to be able to honour a film that moved and impressed all of the members of the jury with equal intensity. It is an important movie, as personal as it is political, and we hope very dearly that this combative filmmaker wants to take us along on many a new journey into the future!" the jury said.
In Born in Evin, Maryam Zaree takes the audience along on a search for her own past, in a gruesome chapter of Iranian history. Resolute and sincere, brave and moving, the filmmaker relentlessly hunts for answers to unasked questions, in the process drawing us ever-deeper into her story and to a collective blind spot. She takes a stand, and takes responsibility for breaking the silence for entire generations.
Also the two Kompagnon-Fellowships for Berlinale Talents and Perspektive Deutsches Kino (Perspectives on German Cinema) went to Ana-Felicia Scutelnicu and Julian Pörksen respectively.
The prizes were presented for a new project to one author and/or director from Berlinale Talents 2019 as well as to a director from the 2018 edition of Perspektive Deutsches Kino. The awards are each endowed with prize money in the amount of €5,000.
The Kompagnon-Fellowships, Berlinale Talents and Perspektive Deutsches Kino aim to provide sustainable support for the work of directors and screenwriters based in Germany. In addition to the accompanying grant, selection for the distinction also offers recipients the opportunity to participate in a mentoring programme featuring practice-oriented coaching, with the aim of deepening their personal approaches to film, and building up their connections within the industry.
"The main support is the acknowledgement itself — the fact that somebody believes that your project has the potential to be a great film," commented filmmaker Jide Tom Akinleminu, who received one of last year's Kompagnon-Fellowships.
This year, jury members Andrea Hohnen, Jerry Hoffmann, and Trini Götze chose the treatments Transit Times by Ana-Felicia Scutelnicu (Berlinale Talents 2019) and To Be Continued by Julian Pörksen (Perspektive Deutsches Kino 2018).
Transit Times by Ana-Felicia Scutelnicu takes place in Moldavia, the beginning of the 1990s, in the post-Soviet transitional period. In the film, a family experiences the decay of old familiar structures, and the strong mother's increasingly desperate survival strategies eventually cease to be of any help. Transit Times takes a look at the plight of individuals who are forced to leave their homelands against their will. The visual power of Ana-Felicia Scutelnicu's previous films instils us with great faith that this current project will also bear her very own sensual and poetic signature.
Also the Jury of the Fédération Internationale de la Presse Cinématographique, (FIPRESCI), awarded three films this Friday at a festival. One each in the sections International Competition, Panorama, and International Forum of New Cinema.  
The FIPRESCI jury awarded their prize in the International Competition to Synonyms by director Nadav Lapid. The jury said that the film is shaking the boundaries of narrative, through a complex character, and entangles different cultures and identities. "It's a powerful piece of work with a sharp sense of humour, and a subtle political message," it added.

The winning film in the Panorama section is Dafne by Federico Bondi. The film is a touching and deeply human portrait of a courageous daughter and her loving father trying to overcome grief and for the unforgettable performances by Carolina Raspanti and Antonio Piovanelli.
The Guild Film prize, awarded by members of the Association of German Art House Cinemas, chose God Exists, Her Name Is Petrunya by Teona Strugar Mitevska (a Macedonian, Belgian, Slovenian, French and Croatian co-production).
The Ecumenical Jury, comprised of the international film organisations of the Protestant and Catholic Churches also gave their top award to God Exists, Her Name Is Petrunya.
Meanwhile the Readers' Jury award of the Berlin daily newspaper Berliner Morgenpost went to Nora Fingscheidt's System Crasher.
Several days earlier, French director Agnès Varda won the honorary Berlinale Camera award. Agnès Varda is one of the most important contemporary francophone filmmakers. She started out as a theatre photographer in Paris before shooting her first feature film, La Pointe Courte, in 1954, with no prior filmmaking experience.
Through Alain Resnais, who edited the film, Varda first came into contact with the circle surrounding the Cahiers du Cinéma, who would later go on to form the core of the French Nouvelle Vague. Her fellow artists would soon include Chris Marker and Jacques Demy. In 1961 her film Cléo de 5 à 7 (Cléo from 5 to 7) premiered at Cannes and put her firmly on the radar of fans of new French cinema.
1967 saw Varda working alongside Claude Lelouch, Jean-Luc Godard, and Chris Marker on the documentary Loin du Vietnam (Far from Vietnam). To date, Varda has made numerous features and documentary films, for which she has received multiple awards and honours, including at the major festivals in Venice, Cannes, and Berlin. Her latest film, the documentary Visages, Villages (Faces Places), made in collaboration with French artist JR, was nominated for the 2018 Oscar for Best Documentary Feature.
Agnès Varda has been a guest of the Berlinale several times, including four times at the Competition. In 1965 she was awarded the Grand Jury prize for Le Bonheur. Her most recent visit was in 2004, when she showed her short film Le lion volatil at the Berlinale Special.
The Berlinale is one of the world's leading film festivals. The festival was founded in West Berlin in 1951 and has been celebrated annually in February since 1978. With more than 300,000 tickets sold and 20,000 professional visitors from 124 countries, it is considered the largest publicly attended film festival worldwide. Some 400 films are shown in several sections, ranging from art house productions to major blockbusters and up-and-coming young film talents. Around 20 films compete for the Golden Bear for best film and the Silver Bear awards for best actor, actress, director, and screenplay.