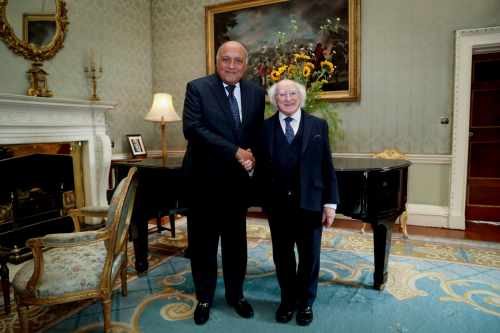 Egypt's Minister of Foreign Affairs, Sameh Shoukry, held on Monday several bilateral meetings with Irish high officials during his visit to Ireland. He discussed the bilateral relations between Cairo and Dublin in a meeting with Michael D Higgins, the Irish President.
According to a statement from the foreign ministry's spokesperson, Ahmed Hafez, Shoukry expressed the country's aspiration for increasing economic cooperation, and commercial exchange with Ireland.
During the meeting, the foreign minister reviewed the positive developments of Egypt's economy and the exerted efforts for creating a good investment climate as well as the new national projects. He invited the Irish side to take part in these projects including the Suez Canal Economic Zone.
For his part, Higgins welcomed Shoukry's visit to Dublin in light of the celebrations of the 40th anniversary of the Egyptian Embassy in Ireland. While Shoukry invited Ireland to participate in the upcoming ceremony of the inauguration of the Grand Egyptian Museum.   
The minister also met with Seán Ó Fearghaíl, the speaker of the Irish Parliament. During the meeting, Ó Fearghaíl welcomed the positive outcomes of the visit of Egypt's Parliament Speaker, Ali Abdelaal, to the Irish Parliament in September 2018.
Shoukry briefed the Irish official on Egypt's work on the NGO's Law number 70, reviewing the government's efforts for enabling the NGOs to carry out their role as main partners in development.
Moreover, Shoukry discussed the means of increasing the economic cooperation with Ireland's State Minister of Trade. He reviewed the promising opportunities for investment for the Irish companies in Egypt in light of the economic reform.
Meanwhile, the Irish Minister expressed his country's determination to increase economic and commercial cooperation with Egypt. He added that his ministry is preparing for an economic mission to Egypt in order to explore the available investment opportunities.  
Moreover, Shoukry met with members of the Institute of International and European Affairs to discuss the latest developments in the Middle East and Egypt's view toward all issues in the region. The discussions addressed countering terrorism, the regional crises in Syria, Yemen, and Libya, as well as the Palestinian issue.