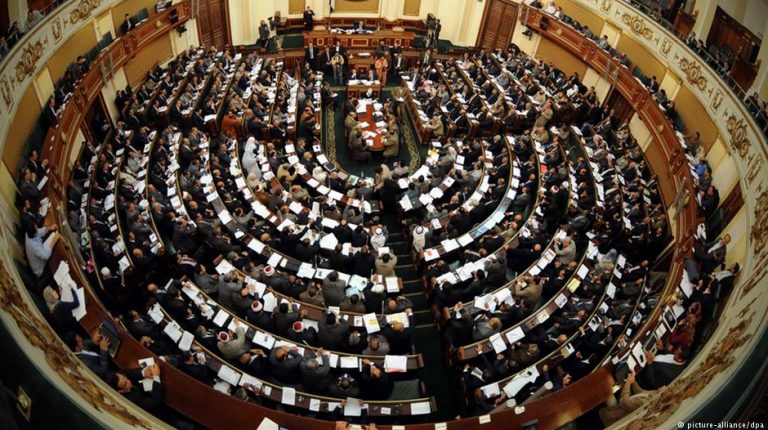 The Egyptian Parliament's legislative and constitutional affairs committee started on Wednesday the first national dialogue session on the proposed amendments to the country's 2014 Constitution.
The sessions were scheduled to begin on Monday and Tuesday, but they were postponed to Wednesday and Thursday, as Parliament Speaker Ali Abdel Aal and a number of leading MPs were attending the Arab-African Youth Forum in Aswan during the past days.
The secretary of the parliamentary committee of legislative and constitutional affairs, Ihab Al-Tamawi, said last week that hearing and discussion sessions will not take less than six sessions, in order to hear the competent bodies and public figures, professors of constitutional law, and the media for two weeks. The dialogue came after 485 MPs provisionally approved the proposed amendments in a plenary session on 14 February.
The national debates include a number of Egyptian universities and members of its teaching boards, representatives of student unions, are expected to join the first hearing session that will include 60 public figures.
The fifth and sixth hearing sessions will be the most important. These will see 120 officials representing most political parties coming to the meeting on 25March, and the concluding meeting will be on 28 March.
The former parliament speaker of Mubarak's era, Fathi Sorour, the head of the Bibliotheca Alexandrina,Mostafa El-Fekki, former minister of parliamentary affairs, Magdi Al-Agati, will attend the session among others.
Egypt's former foreign affairs minister Amr Moussa, who chaired the 50-member constituent assembly which drafted Egypt's current constitution in 2014, will attend.
The amendments, submitted by the parliamentary majority 'Support Egypt' coalition on 11 February, involves changes to 11 articles of Egypt's 2014 Constitution: articles 102; 140; 160; 189; 190; 193; 200; 204; 234; 243, and 244. The coalition also proposed that eight new articles be added to the constitution.
The proposal seeks to extend the presidential period from four to six years, and draft a transitional article that might allow President Abdel Fattah Al-Sisi to start literally tabula rasa and run for office for two other presidential terms.
The amendments proposed allocating at least a quarter of the 450 parliamentary seats for women, youth, Copts, persons with disabilities, and Egyptian expats through solid and fixed articles.
Furthermore, the proposals suggest establishing a senate and introducing the post of vice president to assist the president in his duties.
The session will be open and announced to the public. Al-Tamawi previously noted that he is scheduled to announce the exact dates of these meetings during the coming period. "The meetings will be open, because we have nothing to hide, and we see that these constitutional amendments are in the interest of Egypt and Egyptians."