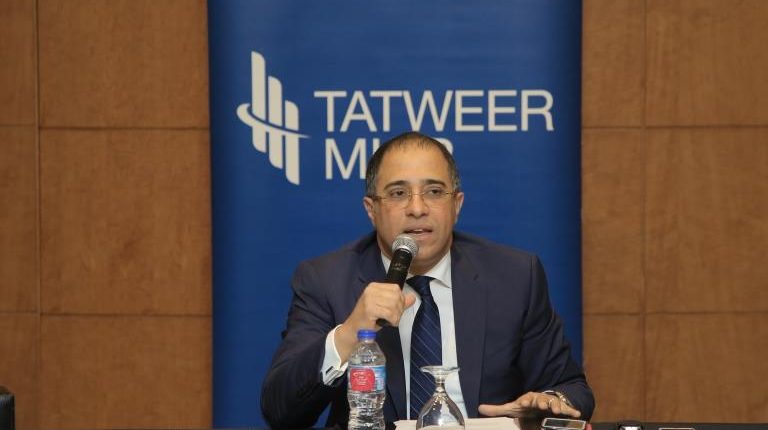 A 5-year, three-pronged strategy adopted by Tatweer Misr focusing on the development of its current projects, expanding its investment in the local market, and seeking to invest outside of Egypt as well as attracting foreign investments to Egypt, according to Dr. Ahmed Shalaby, CEO and Managing Director of Tatweer Misr.
Shalaby said that the company aims to achieve EGP 6bn in sales  in its projects in the current year, compared to EGP 6.7bn last year.
Daily News Egypt interviewed Shalaby to learn about the company's strategy for the current year, the transcript for which is below, lightly edited for clarity:
What is the company's strategy in the coming period?
A strategy has to be a long term one, and we set ours to be implemented on the period of Five Years. It mainly entails Focusing on the Development of our current three projects and securing the delivery of the first phases of both Fouka  Bay & IL Monte Galala , Expanding in the local market through studying the investment opportunities in West Cairo and the North Coast, as well as diversifying our product portfolio , and establishing a solid international presence through real estate export and attracting foreign investors to invest in  our projects. In order to achieve success, the aforementioned objectives require a close study of the market as well as careful observation of changes, projections, and challenges. At the moment, we are studying different investment opportunities. The fact is that we are always keen on choosing to  invest in areas that has a strong value proposition ,for us the choice is not necessarily the best location but more importantly what value can we add to this area or demographic.  So, while we intend to grow our portfolio, we spend a lot of time on both research and planning processes to be clear about our next steps.
What is the size of the company's targeted sales in 2019 compared to 2018?
The company aims to achieve 6bn EGP in sales throughout 2019, which is less than the 6.7bn EGP that was achieved last year. If we take a closer look at the picture, we will be able to understand that this is only a natural and logical target since most of the units in our project "Fouka Bay" were nearly sold out during the course of last year. Of course, if you managed to close a deal for a new project this year, the target will change accordingly.
What is the value of investments the company plans to inject in 2019?
We plan to invest 3bn EGP this year; 2bn EGP will be invested in IL Monte Galala in El Sokhna, and the rest will be directed towards Fouka Bay project in the North Coast.
What is the percentage of sales to foreigners?
Egyptians living abroad, and foreigners constitute 22% of total sales, with the latter representing 5%. As developers who work towards the export ofthe units in  our projects , this is actually quite encouraging for us; Tatweer Misr has, as a part of its objective to increase its international reach and sales, partnered with Liverpool LFC and participated in exhibitions in Dubai, Abu Dhabi and England. Our strategy has always been built with the intention of exporting our projects, this is strongly reflected in our master-plans and while we have historically relied on the Egyptian market, which we will maintain, we also want to expand our reach into new markets  thereby increasing international brand recognition and in turn boosting international sales.
What products does Tatweer Misr intend to showcase during the Cityscape exhibition?
Throughout this year's edition of Cityscape, we are planning to showcase serviced apartments, chalets, and villas in IL Monte Galala and apartments, duplexes and villas in Bloomfields. Moreover, we will reveal Fouka Bay's remaining serviced apartments complex, situated west of the project.
What's the company's delivery plan?
Fouka Bay delivery has already started and we are planning to start operation  this summerWith 167 units, we expect phase one owners and guests to enjoy their summer vacation at their fully finished, water-front homes. Our focus for the time being is to prepare for their unmatched experience during their stay. Moreover, delivery of IL Monte Galala's first phase, comprised of 400 units, is expected by the first quarter of 2020. At that time there will be a number of amenities in place and others in the development phase. As time progresses, we will be integrating new ideas and concepts into our master-plan to remain in tune with times and needs of our guests and customers.
Did you acquire ministerial approval for BLOOMFIELDS?
Yes, ministerial approvals for Bloomfields have been obtained and licenses are soon to be acquired.
Speaking of BLOOMFIELDS, and in line with our strategy for the project to be the first college town in Egypt,  Tatweer Misr, has recently signed an MOU with the New Jersey Institute of Technology (NJIT), and the Ocean County College (OCC) to establish Egypt's first American International Branch Campus (IBC) at BLOOMFIELDS college campus in Mostakbal City. This comes as part of a lineup of agreements with internationally acclaimed universities and schools, spreading across the 90-acre educational district within the project.
What is the volume of investments in the educational part at BLOOMFIELDS?
The educational district, which will cover 90 acres of land, will see 5bn EGP in investment. BLOOMFIELDS foresees the establishment of Egypt's first entrepreneurial university as well as the first GEN-operated 'Hub for Innovation & Entrepreneurship,' in the MENA region "GEN@Bloomfields", providing first-class education focusing on innovation, entrepreneurship and SME development. The project should be ready to receive the first student by September 2022.
What are the updates regarding the residential part of the project?
BLOOMFIELDS offers a total of around 10,000 units, 1213 of which have been sold with a total value of 2.5bn EGP. These units include luxurious villas, lofts, apartments, duplexes, twin-houses and townhouses aesthetically designed to embrace cascading green terraces, floating pools, and interactive roofs, as well as breakthrough flying residences. Homes at BLOOMFIELDS offer a variety of sizes ranging between 80 m2 – 350 m2.
What is the company's expansion plan?
With a land bank of 5,000,000 m2, Tatweer Misr is currently focusing on its 3 projects (IL Monte Galala, Fouka Bay & BLOOMFIELDS) and is looking for the right opportunity to present its unique value proposition to other areas. Expansion of Sheikh Zayed in West Cairo and the North Coast, are among our priorities for investment in the short term, while New Alamein, New Mansoura and Upper Egypt are part of its long-term investment plan.
Do you plan to list the company in Egyptian Exchange (EGX)?
Real estate developers cannot proceed with an IPO before three years of their first delivery. Listing the company is in our long-term plan, so once the full requirements are fulfilled, we will study the market and decide on the best time to apply.
How do you see Egypt's real estate market? Additionally, what is your expectation toward real estate price hikes?
Population growth is one of the main drivers behind the strength of the sector, which contributes with 7 % to the total GDP; we are around 100 Million, increasing annually by 2.5 million every year. And as per Egypt's Central Agency for Public Mobilization and Statistics (CAPMAS), we have around 950 thousand marriages every year, which increases the demand on the housing sector. Accordingly, we can affirm that the demand in the market is real whether for housing or for investment. Real Estate represents 60% of the Egyptian household savings and Egyptians are and will always find real estate investment as the safe haven option.
Although the market is currently witnessing a slowdown in sales, it is only a normal reaction to the massive changes it experienced over the past few years. I believe this slowdown could be viewed as an opportunity to test developers' innovative capacity in all aspects of the industry; one that could result in stabilization and adjustment of prices in order to meet customers' purchasing power. I expect price increases of between 10 and 15% during 2019, this increase will be  only the outcome of the increasing of operation costs and building materials when energy subsidy is removed.
What do you think is the best solution to avoid this market slowdown and stabilize purchasing power?
The problem most developers face is that the Egyptian market currently poses restrictions on mortgage finance because banks only commit to already established projects, and therefore, availing finance for residential projects rests on developers in the market, who invest in the project from the start then sell their units on installments, which consumes resources, time, and effort that can be directed towards planning more projects. The market is in need for a more constructive mortgage finance system which can prove effective throughout the planning phase and help accelerate the construction process.
Moreover, I see that we need to develop a database to determine supply and demand trends across Egypt; it will work as an indicator that could play a vital role in the decision-making process, and allow developers to choose the locations that fit their marketing plans and are in need for their value proposition.
As leading developers in the Egyptian real estate market, how do you see the draft law of the real estate developers' federation?
I believe that initiating a federation for real estate developers is a significant step towards having a more efficient and systematic real estate market. The federation is expected to ensure fluent and accurate communication among industry players, in cooperation with concerned ministries. I'm pleased that the public and private sectors have reached a joint agreement with the aim of moving the industry forward.
How was your participation in the MIPIM exhibition in France?
Egypt's participation in the MIPIM exhibition has seen the government and eight other developers share the same pavilion. With the promotion of Egyptian real estate as a promising, safe investment at the heart of our collective mission to attract visitors, I believe that all developers were able to deliver a clear view of the market's state and volume.
Egypt's participation in such a manner does not only reflect the weight of our market, but also support our double objectives of real estate export and attracting foreign direct investment to the country and the sector. I do believe that these days present a prime opportunity for developers to look to exporting real estate. Given the overall business environment, it makes good business sense that Egyptian real estate companies focus on exporting real estate to potential buyers outside their borders. Potential overseas buyers have vastly different motivations for buying overseas properties or more specifically in our case properties in Egypt, prime among them being a greater focus on capital appreciation in addition to value of purchase.  Within todays financial climate, the cost of prime property in Egypt is seen as a potential opportunity within a limited time frame and hence an incredible opportunity for those companies that wish to market their products abroad.