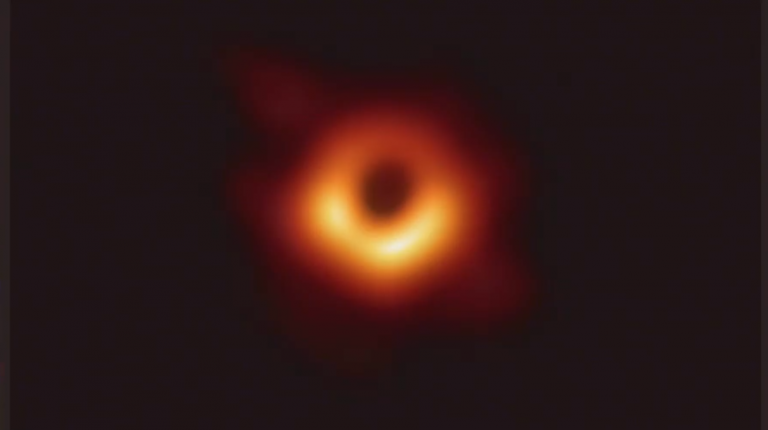 Scientists at the National Science Foundation (NSF) released on Wednesday for the first time, the first ever image of a black hole, too far from our galaxy.
The great breakthrough image was captured after years of cooperation and with a team of more than 200 astronomers running the Event Horizon Telescope (EHT) which is a globe-girdling network of eight radio telescopes.
The black hole has a mass 6.5 billion times that of the Sun.
The captured image shows a halo of dust and gas, tracing the outline of a colossal black hole, at the heart of a galaxy called the "Messier 87 galaxy" which lies 55m light years from earth (500m trillion kms away), according to scientists at the press conference at the NSF.
Details about the breakthrough have been also published on Wednesday in the journal Astrophysical Journal Letters.
"This is a huge day in astrophysics," said NSF Director, France Córdova. She added, "We are seeing the unseeable. Black holes have sparked imaginations for decades. They have exotic properties and are mysterious to us. Yet with more observations like this one, they are yielding their secrets. This is why the NSF exists."
She further added, "We enable scientists and engineers to illuminate the unknown, to reveal the subtle and complex majesty of our universe."
The EHT Project Director, Sheperd S. Doeleman of the Harvard College Observatory and the Smithsonian Astrophysical Observatory, said, "We have taken the first picture of a black hole."
"This is an extraordinary scientific feat accomplished by a team of more than 200 researchers," Doeleman added.
Over the past two decades, the NSF has directly funded more than $28m in EHT research, which is considered the largest commitment of resources for the project.
According to the National Aeronautics and Space Administration, the black hole is a place in space where gravity pulls so much that even light cannot get out. The gravity is so strong because matter has been squeezed into a tiny space. This can happen when a star is dying. We are not able to see the black holes because no light can get out of it.