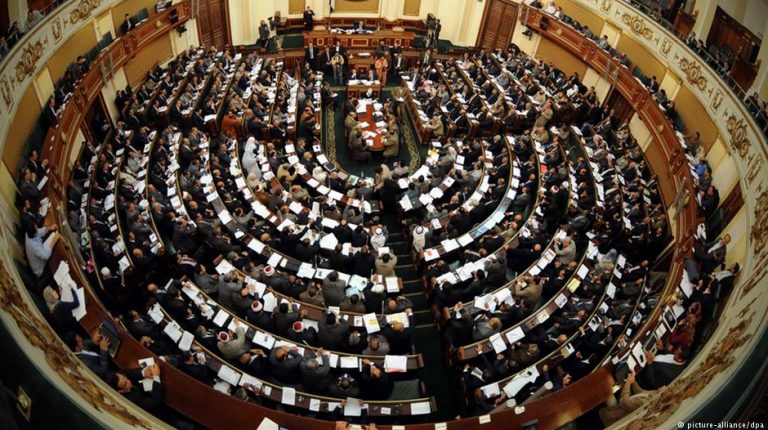 Parliament's Constitutional and Legislative Affairs Committee, headed by the parliament speaker Ali Abdel Aal, will vote on Sunday over the final report prepared by its sub-committee over the proposed amendments to the 2014 Constitution.
During the session the committee's members will settle on the final phrasing of the proposed amendments, in preparation for committee voting on 16 April, MP Tarek El-Khouly told Daily News Egypt on Saturday.
He added that this process will take three session this week and if approved the amendments will be referred to the president for approval, and then the National Electoral Commission will set a date for the referendum.
Abdel Aal previously said he expects the constitutional referendum to take place on 22 and 24 April.
Parliament members are still debating on the amendments which would allow establishment of senate, with its members' minimum age to be not less than 35, and others suggested 40 and 45.
For the controversial article regarding increasing the quota of women representation in parliament, El-Khouly said that some members suggested omitting it from these amendments and creating a new law instead.
The members are also debating over article 140 related to increasing the presidential term, however it's unclear whether the amendments will allow President Abdel-Fattah El-Sisi to run for two additional terms of six years each — remaining in office until 2034 — or extend his current term to 2024 instead of 2022 and then allow him to stand for a single six-year term, ending in 2030.
El-Khouly said that he does not expect any changes for this article, except from legal formatting wise, and that the parliament will settle on extending presidential period to six year and allowing the current president to run for two extra terms.
Leftist and liberal political parties have sharply criticised the amendments, saying not only do they concentrate too much power in the hands of the president but will allow him to remain in power at the expense of the principle of the rotation of power.
The proposals submitted by parliament's majority Support Egypt coalition states only that "a transitional article will be added to the constitution allowing the sitting president to run in line with the amended text of Article 140 on presidential terms."
The report contains the final draft of the amended articles, together with remarks on the changes, either submitted in written form or during the series of consultative sessions held between 20 and 28 March.