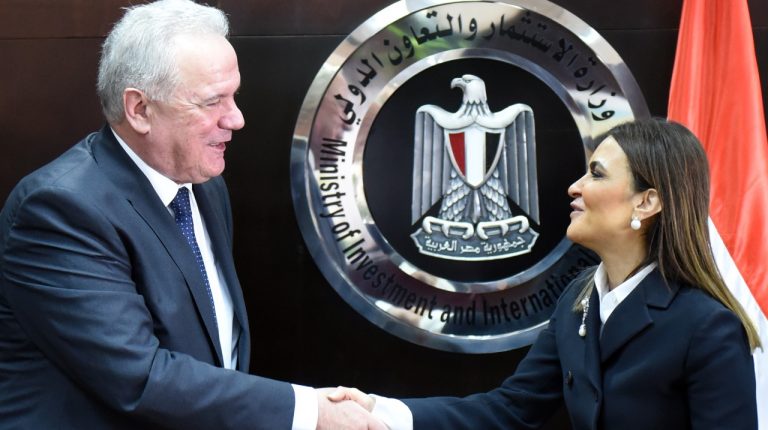 The European Union (EU) is the largest donor to Egypt with a grant size of more than €1.3 bn, and this figure rises to €11 bn when grants, funding, and debt swaps from EU member states and European financial institutions are added, according to Egypt's Minister of Investment and International Cooperation, Sahar Nasr.
Her remarks came during her meeting with the EU Commissioner for International Cooperation and Development Neven Mimica on Tuesday during  his visit to Egypt.
Noteworthy, Commissioner Mimica's visit to Egypt is an occasion to discuss the African-European partnership and related support to the African Union (AU) agenda, particularly related to taking forward commitments of the 5th AU-EU Summit of 2017, and building upon the priorities of the Egyptian Chairmanship, according to the EU's press statement.
During Mimica's meeting with Nasr, they discussed furthering development cooperation during the next phase.
Nasr sated that this cooperation came within the framework of the EU's consolidated support programme which will last until 2020, with funding ranging between €432m to €528 m in the fields of energy, transport, and infrastructure, in addition to supporting regional integration initiatives among African countries.
The minister pointed out that Egypt is currently negotiating with international institutions to support the implementation of infrastructure projects on the continent.
For his part, the EU Commissioner for International Cooperation and Development asserted that
Egypt is a very important country for the EU in the Middle East and Africa region, so the EU is keen to effectively contribute toward development efforts in Egypt.
He added that Egyptian President Abdel Fattah Al-Sisi led Egypt to play a central role in the region, and praised the strong economic reforms taken by Egypt during the past years which contributed to improving the investment climate in Egypt.
Furthermore, Mimica expressed the keenness of the EU to intensify cooperation with Egypt.
Notably, Mimica also met with Al-Sisi on Monday to discuss furthering cooperation between Europe and Egypt.
During his meeting with Al-Sisi, the commissioner presented concrete plans for putting into practice the new African-European Alliance for Sustainable Investment and Jobs, according to the EU's statement.
The alliance was created to strengthen economic cooperation, boost investment and trade, including support to the African Continental Free Trade Area, and create jobs across Africa. The alliance also points to a number of sectors for closer economic cooperation, such as infrastructure development and space technology.
The cooperation between the EU, Egypt, and Sub-Saharan Africa was also discussed in relation to addressing peace and security challenges in the Sahel and the Horn of Africa. The AU-EU Memorandum of Understanding on peace, security and governance signed in May 2018, was highlighted as a solid basis for more strategic engagement between the AU and the EU when it comes to tackling more effectively the complex threats and root causes of instability and violent conflict.