Prominent writer Ahmed Khaled Tawfeek, was not an ordinary popular storyteller who grabbed the minds and the hearts of thousands of young Egyptian readers but he also inspired a generation by his books particularly his novel series Ma Wara Al-Tabia (Paranormal).

Consequently, when Netflix, the world's leading online entertainment service, announced that its first Egyptian drama series will be based on 'Paranormal,' Tawfeek's devoted readers or what can be called as his fans, expressed their absolute joy that the novel series that captured their affection with their twists and turns and exciting events will turn into an international TV series. However, some of them also opened up regarding their fears.

Tawfeek, who died at 55 in April 2018 in a hospital in Cairo, is best known for his books specialised in fantasy, horror, and science fiction. His funeral was astonishing and filled of thousands of young readers who used to read his books.

The new production is Netflix's third series from the Middle East. It will be produced by director Amr Salama and film-producer Mohamed Hefzy.

Celebrating the news, the author's son, Mohamed, expressed his enthusiasm on his Facebook account. "A dream come true," Mohmed wrote last Monday.

Actually, the idea to reproduce the novels into a TV series is not new. In earlier statements in February 2014, director Amr Salama unveiled during a TV interview with writer Tawfeek that he was seeking to produce a series based on 'Paranormal.'

"I promise you that I will fight to the end until the 'Paranormal' TV series comes to light in the best way," Salama told the prominent writer.

Refaat Ismael is a mirror for everyone

In the same 2014 interview, Tawfeek explained that Ismael was an anti-hero in almost everything. "I decided to introduce a lead character that almost does not know how to do anything. He is diagnosed with different diseases and the only thing he has is his mind."
Refaat Ismael is an introvert, mainly intellectual, and a single physician. What makes him very admirable for his fans is that he was not a superhero, but a person that people can regularly meet in real life.

"He is a mirror for everyone. The reader can imagine that he is Ismael but he will never imagine that he could be James Bond," Tawfeek asserted.

Meanwhile, Tawfeek moved on to say that there was an attempt to introduce a TV series based on his best-selling 'Paranormal,' but the project was suspended due to production problems.

Fears of dramatic treatment

"I think what distinguishes Refaat Ismael from any other fictional characters is that he was a real person and not a superhero," Ahmed Adel, a 27-year-old journalist told Daily News Egypt.
"He was an ordinary person, a single man who avoids socialising with people. He could be your neighbour who gets furious if you bother him," Adel continued.
Some readers are apprehensive that the Netflix series might disappoint them and fail to meet their expectations.
"Honestly, I am a little bit concerned over the series particularly the dramatic treatment as well as Amr Salama himself. It is not easy to produce Egyptian horror or sci-fi fiction movies or series," Adel revealed.
"However, I am pretty sure that the scriptwriters will be from Tawfeek's readers and fans, who know the novels quite well and are aware of all the hidden details," Adel noted.
Furthermore, Adel, who read almost 40 books of the 'Paranormal' novel series, suggested that the series' makers could produce the novels based on international practices. "Each book could be produced in a separate episode, and there could be several seasons," Adel clarified.
Adel continued that what makes 'Paranormal' suitable to implement as an international TV series, is that each book is an independent story–expect some books.
"I believe that either actor Sayed Ragab or Abdel Aziz Makhyoon could perfectly play the role of Ismael," Adel concluded.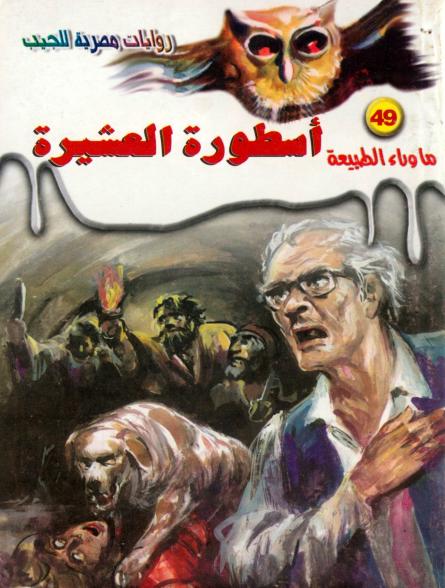 Refaat Ismael should stay fictional

Ahmed Salem, a 27-year-old accountant opened up that he is little excited over the Netflix new series, however, he shared some of his fears.
"The problem is that there are some characters that should stay fictional, such as Refaat Ismael. This kind of figure with all its features is hard to be produced in a TV series or a movie," Salem told DNE.

However, Salem agreed with Adel that Sayed Ragab could play the role of Ismael. "I think he will be good, especially with his thin body and messy hail. Additionally, Ragab is an actor that could play a complex personality such that of Ismael."

In contrast, Salem revealed that Abdel Aziz Makhyoon will never be a good choice. "I am concerned that the new TV series will affect the novels which have been adored by many readers."

The young accountant was not a dedicated reader for Ahmed Khaled Tawfeek, but almost a friend. "I met him dozens of times, some of them were personal meetings. However, I could recall a time in which he revealed that he hoped that any of his books could be produced in a TV series or a movie, especially the 'Paranormal,'" Salem expressed.

"He was a cinema lover and keen to attend Zawaya cinema shows in Tanta, but he never talked about this," Salem concluded.

It is a hard mission

"I am totally concerned over the dramatic implementation of 'Paranormal' as I think it would be very different from Tawfeek's narrative style," Samir told DNE.
Samir argued that drama will hardly produce the sprite of the novel. "I do not mean here the events but the characters' patterns and hidden features especially of Refaat Ismael."
"Tawfeek was a special storyteller. He used a distinctive fictional narration, so transferring 'Paranormal' should not be confined to narrating events but to present the spirit of Tawfeek's narration, which I believe will be a very hard mission," Samir highlighted.
Meanwhile, what will make the mission harder is that Tawfeek's characters are sarcastic and distinguished, Samir noted.
"Refaat Ismael is a sarcastic, nihilistic, and intellectual character. This will be hard to be perfectly introduced in drama," Samir described. 
On the other hand, Samir disclosed that the reason behind 'Paranormal's' popularity is that the lead character is an anti-hero, a very thin and elderly person. "He is the opposite of all other adventurous fictional characters that other writers produce such as Nabil Farouk. I think this what makes Tawfeek and Rifaat Ismael quirky," Samir noted.
"Readers emphasised with Ismael because I believe, he was similar to the characters of their grandfather who told stories, with many people have never got the chance to meet their grandfathers alive," Samir expressed.
Furthermore, Samir noted that Amr Salma is a good choice for the TV series as the director himself is one of Tawfeek's biggest fans and dedicated readers.
On the other hand, Mohamed Radwan, a 31-year-old web developer revealed that he is a little bit excited to watch 'Paranormal,' the new TV series, however, he agreed that the mission will not be easy.
"Most readers deal with Refaat Ismael as if he is Ahmed Khaled Tawfeek, so who could introduce such a character in the best way in a drama?" Radwan opened up.
Radwan added, "Abdel Aziz Makhyoon is close to Refaat Ismael than Sayed Ragab, but still he is not  Refaat Ismael for me."
Regarding the fears, Radwan said that the novel series is being told from the perspective of a narrator, that of Refaat Ismael. "How could this be introduced in a drama? Certainly, there will be differences between the novels and the TV series," Radwan noted.