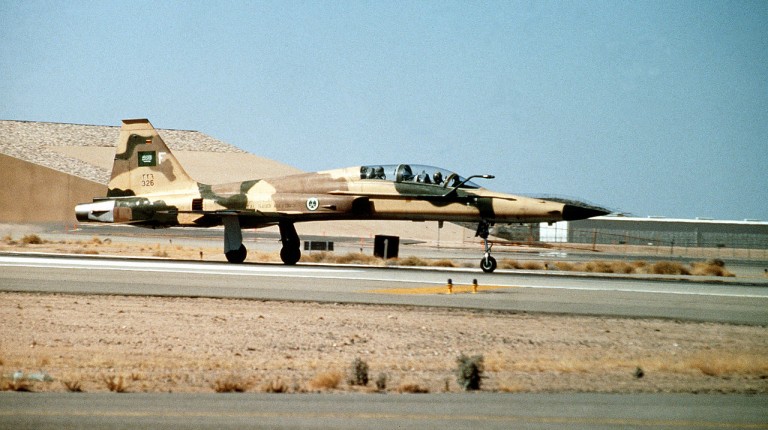 Saudi Arabia's air defence forces intercepted two drones launched by Yemen's Houthis targeting the city of Khamis Mushait, said a Saudi-led coalition spokesperson in a statement released by the Saudi Press Agency early on Tuesday.
However, the agency gave no further details about the interception.
Earlier on Monday, Houthi-run Masirah TV reported that the movement had carried out attacks on the King Khalid Air Base which is near Khamis Mushait in southwestern Saudi Arabia.
In May, two Saudi oil-pumping stations, affiliated with the east-west pipeline, were hit by explosive-laden drones. This happened a day after Riyadh announced that two of its oil tankers were among the four vessels attacked off the coast of the UAE.
Al-Masirah TV also said that the Houthi group launched drone attacks on Saudi installations without identifying the targets.
The TV report cited a Houthi military official saying that "seven drones carried out attacks on vital Saudi installations."
On Twitter, Al-Masirah TV cited the official as saying, "This large military operation is in response to the continued aggression and blockade of our people. We are prepared to carry out more unique and harsh strikes."
In March 2018, Houthi rebels have previously claimed responsibility for a ballistic missile attack against Saudi Arabia in which at least one person died, and two others were wounded.
Since November 2017, Houthi rebels have fired multiple missiles into Saudi Arabia, most of which have been intercepted. At least one of them targeted Riyadh airport.
The conflict in Yemen erupted in September 2014 when the Ansar Allah "Houthi" group, backed by Iran, seized control of Sanaa, Yemen's capital.