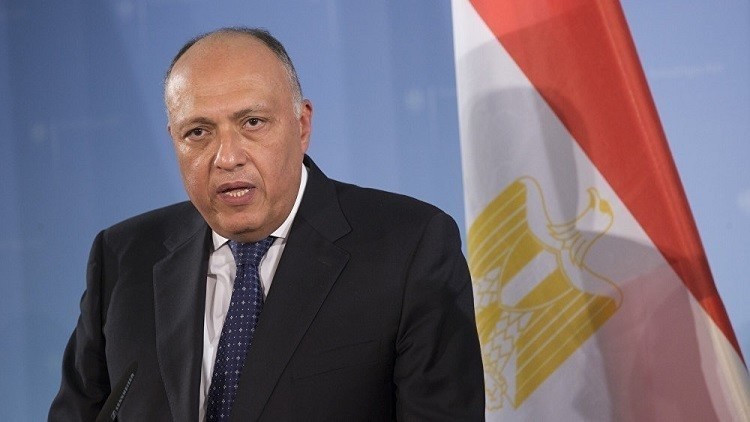 The Egyptian state will not give away an inch of the Sinai Peninsula to any country, Foreign Minister, Sameh Shoukry, said on Monday, responding to inquiries by TV channel Russia Today, about the possible reported outcomes from the upcoming Manama conference.
The conference's $50bn plan envisions a global investment fund to lift the Palestinian and neighbouring Arab state economies. It is scheduled for Tuesday in Bahrain.
Shoukry, who is in Moscow to attend the two-plus-two talks on Monday with Russia, asserted that the Egyptian state has repeatedly denied any claims that argue giving Egyptian land from Sinai to Palestinians.
He added that the Palestinian side will not approve that any other land is taken from its owners as Palestinians themselves face occupation.
Trump's Mideast envoy Jason Greenblatt had also previously denied media speculations that the 'deal of the century' includes giving any lands of Sinai to Gaza.
"False! Please don't believe everything you read. Surprising and sad to see how people who don't know what's in the plan make up and spread fake stories," Greenblatt said.
Furthermore, Shoukry refuted all claims that Egypt has been blocking aid or funds passing to the Gaza Strip, adding that Egypt presents aid to citizens in the strip including logistical support, medical care, and ensuring that the Israeli side is obliged to allow this aid reaches its destination.
The June 25 to 26 conference in the Bahraini capital Manama, which the Palestinian Authority is boycotting, will discuss the United States-led proposals for an economic vision to be presented by US President Donald Trump's son-in-law, Jared Kushner.
This is part of a wider plan to resolve the Palestinian-Israeli conflict and a part of this reported plan is for Palestinians to work in parts of the Sinai Peninsula.
Representing Egypt is an official economic delegation from the ministry of finance which will attend the conference to hear out the propositions, a high-ranking Egyptian official told Daily News Egypt on condition of anonymity.
State-run MENA news agency said on Saturday, that an Egyptian delegation headed by a deputy finance minister will participate in a Bahrain summit.
Kushner explained that some of the projects would be in Egypt's Sinai Peninsula, where investments could benefit Palestinians living in the adjacent Gaza, a crowded and impoverished coastal enclave.
According to the plan released by the White House, Egypt is to receive $9.16bn, $5bn of which will be for a new transportation infrastructure in the country to improve domestic and regional connectivity.
The plan, however, was immediately called into question when Palestinian President, Mahmoud Abbas, who reiterated his opposition and confirmed he would boycott the two-day Peace to Prosperity conference.
Senior Palestine Liberation Organization (PLO) official Hanan Ashrawi, said the plan was "all abstract promises" and said only a political solution would solve the decades-long conflict.
The same stance was taken by Hamas leader, Ismail Haniyeh, who said last Thursday his Palestinian movement rejected the conference as it would amount to Arab "normalisation" of ties with Israel. He also accused Israel of failing to abide by agreements meant to ensure calm in the Hamas-controlled Gaza Strip.
Meanwhile, Minister of State for Foreign Affairs of Saudi Arabia, Adel Jubeir, said in an interview that every nation in the region must accept a Palestinian decision regarding Washington's Middle East peace plan.
"I think anything that improves the situation of the Palestinian people is something that should be welcomed. Now having said that, the political process is extremely important," he said in an interview.
"The Palestinians are the ones who have the ultimate decision in this, because it's their issue and so whatever the Palestinians accept, I believe everybody else will."