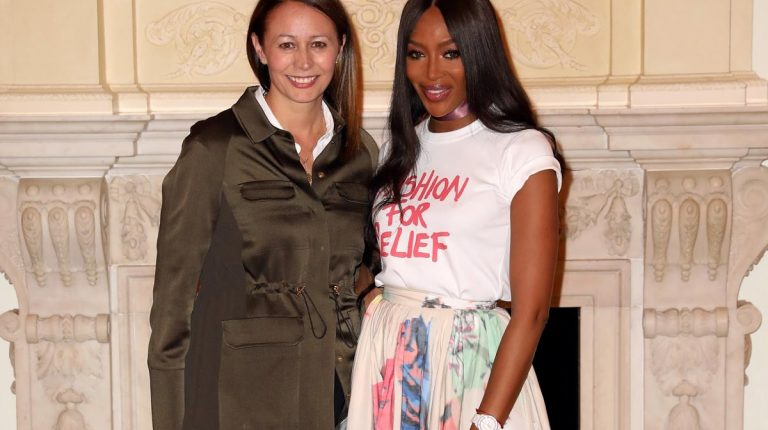 After 30 years in the fashion industry and more than 500 cover shoots, Naomi Campbell is about to add a new prestigious award to her growing collection. Ahead of the British Fashion Awards 2019, the British Fashion Council announced that Campbell is set to receive the Fashion Icon Award, on Monday 2 December at the Royal Albert Hall, London.
Campbell will be recognised for her undeniable contribution to the fashion industry, her world-renowned career as a supermodel, as well as her philanthropist work with charities and incredible efforts for a more diverse and equal future, especially in Africa.
The Fashion Icon Award is one of the Special Recognition Awards that celebrates outstanding contributions to the fashion industry; therefore, Campbell is a natural choice for the recognition.
"We cannot think of a more deserving recipient than iconic Londoner Naomi Campbell, she has achieved exceptional work in the industry. Naomi represents female empowerment, activism, and glamour and her voice is used for great impact. We are thrilled to present The Fashion Icon Award to Naomi and acknowledge her for her remarkable contribution to the global fashion industry," said BFC Chief Executive, Caroline Rush.
Campbell's achievements are not solely limited to the fashion industry. Throughout her career, she has become known for using her success to help those in need through her incredible work with fundraising and charity work across the globe.
Naomi Campbell began charity work with Nelson Mandela in 1993, and in 1997 he named her "Honorary Granddaughter" for her endless activism. Moreover, in 2005, Naomi Campbell founded Fashion for Relief, a charity merging fashion and philanthropy. Born in London, Fashion for Relief was one of the first fundraisers with an aim to help people affected by the disastrous floods that hit the UK in the summer of 2007.
Her passion for female empowerment and Africa has seen her headline the 2019 Forbes Woman Africa's Leading Women Summit and her ongoing mission to elevate and connect African designers with the global fashion community has seen her co-produce this year's Arise Fashion Week in Lagos, Nigeria.
Campbell was the first black model to cover French Vogue in 1988, the first black model to be on the cover of American Vogue's September issue in 1989, the first black model to appear on the cover of TIME magazine, Russian Vogue as well as the first British black model to appear on the cover of British Vogue.
With that in mind, Naomi Campbell launched the Campaign "Diversity Coalition" with the aim to address racism in the fashion industry in 2013.