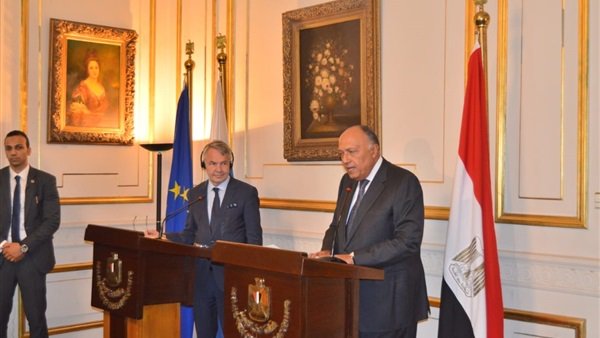 Egypt's Foreign Minister Sameh Shoukry and his Finnish counterpart, Pekka Haavisto, agreed on activating a joint business council to explore more fields of cooperation, especially at the economic level during a meeting in Cairo on Tuesday.
In a joint press conference, Shoukry underlined the importance of relations with Finland and highlighted means of increasing Finnish tourists to Egypt.
Haavisto expressed his pleasure for visiting Egypt, which was part of his Middle East tour, including Saudi Arabia and the United Arab Emirates, to hear their viewpoints on Sudan.
He stressed the importance of maintaining Sudan's stability during the current phase, expressing the European Union's (EU) readiness to play a role in this respect, calling for encouraging foreign businesspersons to invest in Sudan.
Shoukry highlighted efforts exerted by Egypt to support the Sudanese people and protect their country's stability in a way that ensures a smooth power transition.
He pointed out that Egypt's President Abdel Fattah Al-Sisi has presided a mini-African summit in Cairo recently to discuss the latest developments in Sudan.
In his speech, he added that he discussed with the Egyptian foreign minister bilateral relations, issues of mutual concern, and means to fight extremism, given that some Finnish nationals have been adopting extremist ideologies.
Prior to press conference, Shoukry and Haavisto, who is also the EU's special representative for Sudan, stressed on the importance of continuing joint action to counter terrorism, which is an issue of concern to all European States.
Both sides agreed on the importance of enhancing efforts by the international community to uproot terrorism
The meeting also discussed means of developing bilateral relations between Egypt and Finland, in which, the Finnish foreign minister stressed on the importance for his country attaches to consolidate relations with Egypt. He underlined the necessity of upgrading cooperation between the two sides in various fields.
They also exchanged views on the regional issues of mutual interest, topped by conditions in Sudan, and its recent updates.
Regarding Sudan, Shoukry reviewed during the meeting Egypt's efforts to maintain stability in the neighbouring country.
The meeting also tackled the situation in Yemen and Syria, in addition to efforts to revive the peace process in the Middle East.
Finland is the current president of the EU.