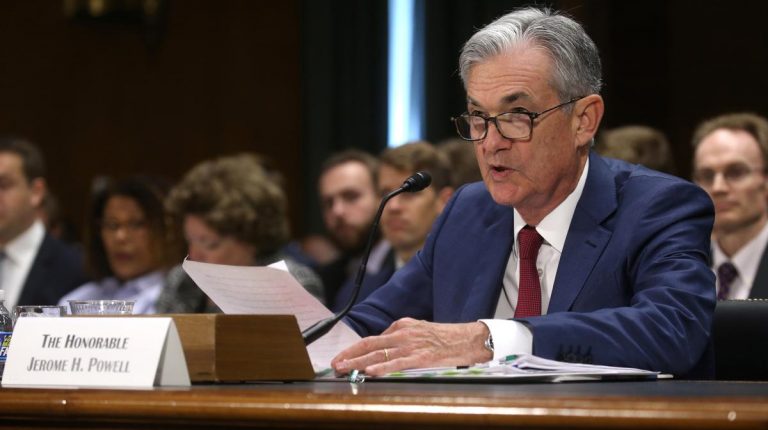 On Friday, Wall Street's main indexes moved lower, on the back of some reports that the Federal Reserve (Fed) plans to cut interest rates by only a 25(0.25%) basis points (bps) at the end of July.
Contradictory statements have been coming from Fed officials during last week, two influential Fed officials, New York Fed President, John Williams, and Fed Board of Governors Vice Chair, Richard Clarida, said that quick action is required by the central bank to support the United States economy.
However, Williams backtracked on his comments later, and said that his statement was not about potential action at the upcoming July meeting.
On the other hand, Boston Fed President, Eric Rosengren, said that he is against an apparent push to cut interest rates, adding that the Fed can afford to be patient as long as the economy is performing, and the risk of recession is low.
Rosengren explained that he is aware of uncertainties and downside risks, however, he believes that they are not strong enough yet to justify the first-rate reduction since late 2008 during the financial crisis.
Williams' backtracking was picked up by US President Donald Trump, who blamed the Fed for the slowdown in economic growth.
Trump tweeted "I like New York Fed President John Williams first statement much better than his second. His first statement is 100% correct in that the Fed 'raised' far too fast & too early."
"We are in a World competition, & winning big," Trump said, "but it is no thanks to the Federal Reserve. Had they not acted so fast and 'so much,' we would be doing even better than we are doing right now. This is our chance to build unparalleled wealth and success for the US, GROWTH, which would greatly reduce % debt. Don't blow it!"
Fed rate cut effect on Egypt and emerging markets
Many emerging markets (EMs) spent 2018 in a defensive crouch, monetarily speaking, keeping rates higher than domestic conditions demanded to lure capital in the face of a tightening Fed.
In Egypt's case, existence of external factors impacts monetary policy, according to Mohamed Abdel Aal, a member of the board of directors of the Suez Canal Bank. The escalating trade war between the US and China may push inflation to rise in the US, may force the Fed to raise the interest rate on the dollar, and may be then force the Central Bank of Egypt (CBE) to raise the interest rate.
According to Standard Chartered Head of Managed Investments and Products Management, Danny Chang, a Fed rate cut would be good for the equities market, including EMs, noting that market consensus estimated that there is a 100% probability for at least one rate cut and a 93% probability of two rate cuts from the Fed by end-2019.
While BlackRock Investment Management said that EM debt comes in two flavours: bonds denominated in the issuer's local currency, and bonds denominated in another currency such as the US dollar, so-called hard-currency debt, adding that global central banks' dovish shift has spurred both types of EMs debt to rally, mostly driven by declining global rates.
Consequently, such rally in EM debt reduced yields significantly as bond prices increased. Nevertheless, the BlackRock strategists argued that EM debt yields remain attractive on an absolute and relative basis over the long-term.
Earlier, Scott Minerd, global chief investment officer at Guggenheim Partners told Daily News Egypt that the Fed is going on hold, and the US dollar is weakening, which is traditionally good for EMs.