It was once said that people die only when they are forgotten. When speaking of an artist as glorious as late director Mohammed Khan, his name is far from being gone as his work is here to stay as far as Egyptian cinematic history shall remain. While the veteran director's name keeps him alive, even if his body is buried, his friends keep remembering him, and he opened a window for people to explore other aspects of him, as cinematographer Said El-Shimy said.
Inside Lamasatt Art Gallery, Khan's best friend El-Shimy takes visitors on a journey of the unexplored part of Khan's life as a director. Through 30 photographs, the gallery's last exhibition Khan commemorates the prominent director's name for a third time.
In one of downtown's authentic buildings, the exhibition showcases Khan's captured moments backstage of some of his films, exploring some of his genuine talents in leading stars to what he wants to portray on camera.
With this exhibition, Khan's lifetime friend El-Shimy wanted to open a window to young generations in order to dig deep into the world of Khan, knowing about is suffering, dedication, and hard work.
"He put all of his efforts in order to have his films in a final good version that people currently see. Khan suffered a lot throughout his life in order to reach the place he was at," El-Shimy told Daily News Egypt.
He added that people only know Khan through his films, yet they do not know anything about him as a person, which is the main goal behind the exhibition.
"Younger generations know about this name through the films they see, but with the photographs, and the showcased letter, they get to know the way he dealt with big names in order to bring out of them the on screen acting," he explained.
The exhibition also witnessed the publishing of two books by El-Shimy, in which he shared with the public the letter he exchanged with Khan about cinema and films throughout the 19 years Khan was in London.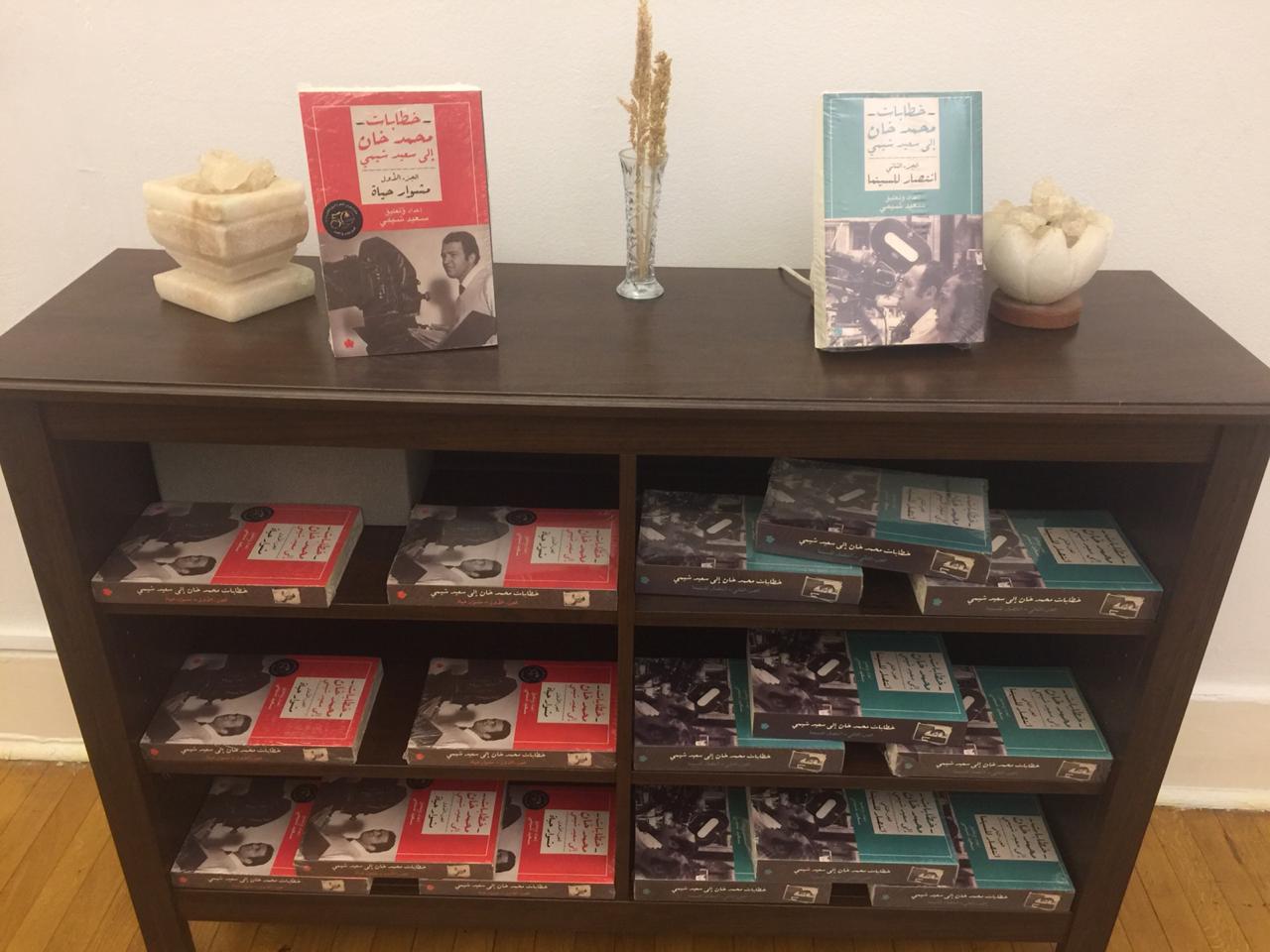 "We discussed a number of films, cadres, and stories. Throughout 19 years, we had an open conversation regarding that art, which deserves to have the appropriate exposure," he explained.
The exhibition is the fourth of EL-Shimy's journey in commemorating his friend. It was held last year at the Cairo Opera House, with 40 photographs that saw the light for the first time.
Running until July 31, Lamasatt Art Gallery host 30 camera captures which EL-Shimy found to be appropriate. 
"The showcased photographs were all taken at the backstage of Khan's most famous films with veteran artists, they were the best that resembled Khan's relationship off camera" Nada Ahmed, the director of Lamasatt Art Gallery told Daily News Egypt.
Khan was a leading figure of the 1980s realist wave of filmmaking in Egypt, marking a significant period in the history of cinema in the region. He spearheaded the wave along with other directors, with the aim of capturing the everyday life of ordinary Egyptians on the silver screen.
Khan was also known as one of the few filmmakers who gave a voice to female characters, mirroring societal and political changes in Egypt.
Originally Pakistani, he received the Egyptian citizenship in March 2014. Khan closed his eyes for the last time on July 26, 2016.