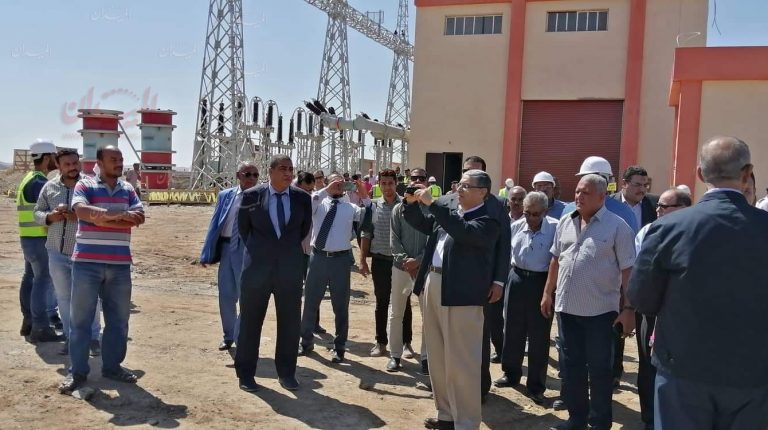 The ministry of electricity and renewable energy has launched the 220/66/22/11 kV transformer power plant in El Qoseir. For the first time, the city will be connected to the unified national grid, to ensure electricity supply throughout the country.
The Minister of Electricity and Renewable Energy, Mohamed Shaker, said that the ministry succeeded in creating an ambitious plan for developing the northwest coast of the Suez Canal, including the establishment of the El Qoseir transformer station with the capacity of 66/22 kV voltage, expandable to 220kV, with an investment cost of EGP 170m. This transformer connects the city of El Qoseir to the unified electrical network for the first time.
The plan also includes establishing the Safaga/Qoseir electric line with a length of about 130 km and a 220kV voltage, at an investment cost of about EGP 360m. The expansion of the Safaga plant with two cells of 220 kV voltage comes with an investment cost of about EGP 30m.
Shaker explained that a 220/66/11 kV mobile plant was installed, with an investment cost of about EGP 60m, in addition to starting the establishment of the Qoseir/Marsa Alam/Bernis aerial line, with a length of about 285 km, a voltage of 220 kV, and an investment cost of EGP 1bn.
The Canal Company for Electricity Distribution has also established two 11kV distributors, and extended cables to 3 × 400 sectors with a length of 16 km at a cost of about EGP 48m.
The Egyptian Electricity Transmission Company (EETC) signed a few days ago a contract for the implementation of a transformer station west of Damietta with a voltage of 22/220/500 kV, with a capacity of 720/2mV pack (a) with the alliance of Kharai/NHVS/TAIKAI.
The chairperson of the EETC, Sabah Mashaly, said that the contract includes the project implementation of the West Damietta transformer plant, which comes with a voltage of 22/220/500 kV with a capacity of 720/2mV pack (a), to counteract the increased loads in the Delta region.
She added that the total value of the contract is about EGP 440m. The foreign component of this is financed by IFA, while the local component will be self-funded by the EETC, with an implementation period of up to 12 months from the date of the contract signing.