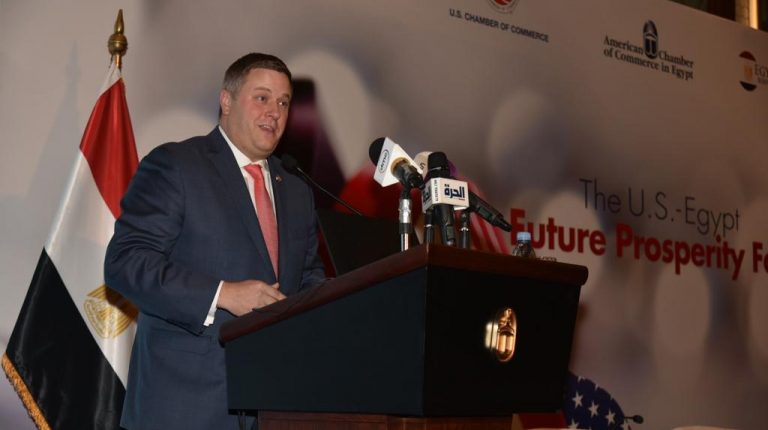 The United States trade exchange with Egypt hiked 322% over 31 years from $1.8bn in 1987 to $7.6bn in 2018, said Ian Steff, assistant secretary of commerce for global markets and director general of the US Commercial Service, during his speech at the US-Egypt Future Prosperity Forum hosted by the American Chamber of Commerce in Egypt (AmCham) on Monday.
"We would like to build momentum of our cooperation and assure the private sector leadership of the country's economic growth. We seek the support of the public private and academia representatives to take the economic cooperation to the next level," Steff mentioned.
The US hopes to remove the trade barriers and ensure the innovation to enhance the business ties, Steff noted, adding that the local market needs to be more transparent.
The governmental and business cooperation is well-developed and witnessing positive indicators, he said. When the Egyptian President Abdel Fattah Al-Sisi visited Washington D.C. in 2019, and Prime Minister Mostafa Madbouly attended the annual meetings of the International Monetary Fund (IMF) and the World Bank (WB) in October, they held productive talks with the American business and political community, Steff noted.
Also, several US senior officials visited Egypt where they discussed boosting of the joint cooperation in several fields, including energy and foreign affairs.
Steff also met with Egypt's Minister of Trade and Industry, Amr Nassar, during his current visit to Egypt, where both sides discussed boosting trade relations.
Moreover, Jonathan Cohen, the new US ambassador to Egypt, asserted, over his speech in the forum, his keenness to improve the trade and investment relations with Egypt, adding, "I am looking forward to working with all of you to take the relations to the next level."
Cohen has arrived in Egypt and presented his credentials at the Ministry of Foreign Affairs on Sunday