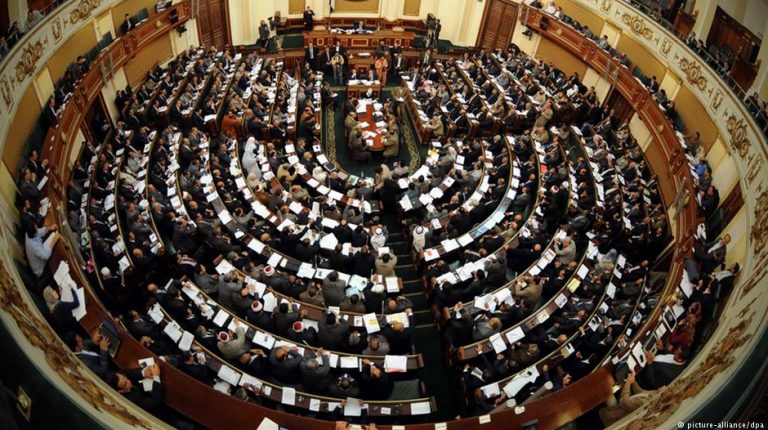 The Egyptian parliamentary committee of budget and planning discussed on Sunday evening the government's statement delivered by Prime Minister Mostafa Madbouly to the parliament on the eighth of October.
The committee's head Hussien Eissa said the meeting will discuss the figures related to the country's financial and economic performance from August 2018 to October 2019.
Parliament Speaker Ali Abdel-Aal previously ordered the formation of an ad hoc committee headed by Deputy Speaker El-Sayed Mahmoud El-Sherif to discuss the same issue, and the first meeting was held on 6 November.
The deputy speaker and head of the ad hoc committee said the government's statement will be also discussed by the parliament's 25 standing committees.
"These committees should send their remarks and recommendations to the ad hoc committee by 20 November. At the end of the debate, a report will be prepared by the committee, recommending whether to give the government a vote of confidence," said El-Sherif.
In October, some members demanded clarification from the government regarding pending laws, government salaries, and pensions, while others asked the government to respond to media campaigns distorting the state's progress in fighting terrorism.
In response, Abdel Aal met some ministers to discuss their performance and what they are doing to improve the lives of ordinary citizen.
Bakri told reporters on Sunday that a ministerial reshuffle will be announced following President Abdel-Fattah Al-Sisi's return from his current visit to Germany.
"Informed sources told me that this reshuffle is imminent and that while Prime Minister Madbouly will retain his post, a number of service sector ministers are expected to leave the government," said Bakri, adding that "the new make-up of the government will be sent to parliament to be put up for a vote, in line with the constitution."