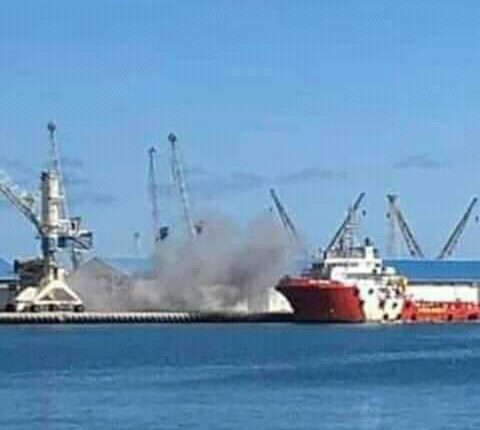 The Libyan Arab Armed Force (LAAF) struck on Tuesday a Turkish cargo ship carrying weapons and ammunition that was docked at the Tripoli port controlled by the UN-backed Government of National Accord (GNA), Libyan media reported.
LAAF posted pictures of the cargo with thick smoke billowing, saying the vessel came from Turkey.
The strike was also confirmed by the head of the United Nations Support Mission in Libya (UNSMIL) Ghassan Salame, saying that Tripoli port was attacked, without giving any details.
The arms embargo on Libya has been routinely breached, and the weapons poured into Libya despite a pledge by international powers to respect the ban, according to reports by the UNSMIL.
Meanwhile, the European Union agreed on Monday to launch a new mission in the Eastern Mediterranean to block the flow of weapons into Libya.
Following Monday talks between EU foreign ministers in Brussels, Italy's FM Luigi Di Maio confirmed the announcement, explaining that the new mission in not a revival of Operation Sophia, and would be deployed on the east coast of Libya where arms trafficking is taking place.
In a step that breakthrough weeks of fruitless negotiations, Di Maio told reporters that "the European Union commits to an aerial and naval mission, with a terrestrial component, to block the weapons and the entry of weapons in Libya."
Giving details of the mission, which will be finalised in the coming weeks, Luxembourgish Foreign Minister Jean Asselborn, expected that the mission will have three levels "in the air, satellite, and maritime."
EU member states agreed to supply seven plans and seven boats for the mission, after Austria lifted its veto. EU Foreign Affairs Chief Josep Borrell expressed hope that the new mission would operate by the end of March.
The EU agreed that its ships are to inspect suspicious vessels in the Eastern Mediterranean away from migrant routes, addressing Austria's concerns over bringing more migrants to Europe by the naval mission.
Borrell elaborated that the naval mission would start in the international waters, adding that the mission will not patrol within the Egyptian-Libyan land borders, explaining that "it would be very difficult for us to act between two sovereign countries."
Meanwhile, Austrian Foreign Minister Alexander Schallenberg expressed his country's fears saying that Vienna had accepted the mission, but it would still be alert for any signs that mission will attract migrants into Europe.
Worrying that migrants would draw toward the mission in hopes of being picked up, Austria used its veto rights in the last weeks to stop the EU sea mission, and a compromise proposed by EU.
The compromise suggests that the EU mission would resume work in phases, starting with air surveillance over the sea, then moving into all Libyan airspace and then with a final phase using all available EU assets in air, land, and maritime.