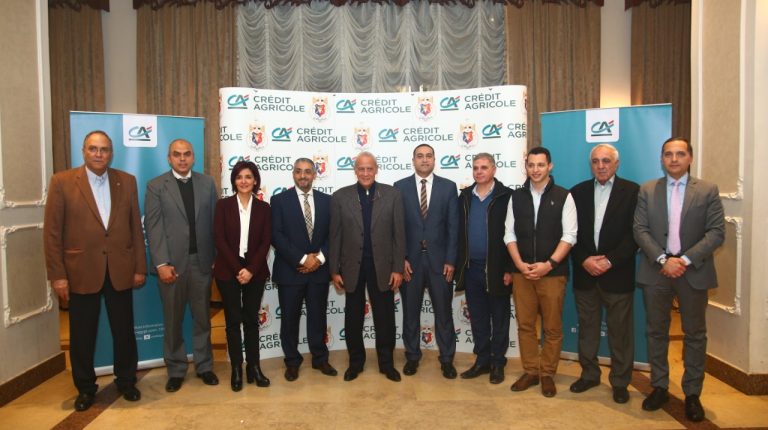 Crédit Agricole Egypt has signed a 10-year extension contract for its partnership with the Egyptian Shooting Club, which will introduce the conversion of the club's membership cards into payment cards for all club members as part of an initiative from the bank to help push digital transformation in Egypt.
The signing ceremony was attended by Walie Lotfy, the bank's chief commercial officer, Hala Al-Fas, head of Retail Banking, in addition to a number of other top managers and officials from Crédit Agricole Egypt. From the Egyptian Shooting Club, chairperson Major General Mohsen Tantawi, his deputy Mohamed Hammam, Treasurer Ehab Hashish, and Executive Director Sherine Shams, along with a number of other board directors, were present.
The idea of converting membership cards into payment cards is considered a qualitative shift, as these new cards – besides being used for club entry – will provide exclusive benefits for club members and will become a substitute for cash payments. They will also become a method of payment for purchases in stores and online or for government payments. This initiative will also contribute to the drive towards becoming a cashless society, in alignment with the Central Bank of Egypt's (CBE) strategy. In 2019, Crédit Agricole succeeded in making a similar agreement with Alexandria Sporting Club to convert their membership cards into Visa cards.   
During the signing ceremony, Lotfy said, "We have an ambitious business strategy to provide innovative services in the digital banking field, in line with the financial inclusion plan developed by the CBE to transform into a cashless society, and to achieve financial inclusion by integrating all categories and classes in society within the digital economy system; thus, we strive to reach our customers everywhere."
He added, "We are proud to extend our partnership with the Egyptian Shooting Club, as well as to offer innovative services to the club members. The tremendous success achieved by Crédit Agricole Egypt in converting Alexandria Sporting Club's membership cards into payment cards was a great motivator to repeat the experience in partnership with the Egyptian Shooting Club. We aspire to expand the use of smart payment cards in many other communities."
"Crédit Agricole's innovative digital banking services have been recognised and appreciated around the world by global banking institutions. The most recent awards were that of the 'Most Innovative Bank' awarded by Global Business Outlook and the title of the Best Private Bank by Global Finance," Lotfy continued.
Pierre Finas, managing director of Crédit Agricole Egypt, added that, "The bank's conversion of membership cards into payment cards is a continuation of its drive towards expanding its technological services in the banking sector, within the framework of the bank's strategy as a unit of Crédit Agricole Group to work towards digital transformation and sustainable development. The bank's record over the past few years is abundant with successes, as 33% of its total customer base use the electronic banking services it provides through various digital channels. We are proud to lead the way in introducing this innovative initiative that will drive the process of expanding the electronic payment channels in Egypt."
Tantawi, for his part, said, "Our primary interest is to offer distinguished services to club members, and we are delighted today to extend our partnership with Crédit Agricole Egypt for another ten years. During this partnership, which has spanned over 29 years now, Crédit Agricole has become part of the club's fabric, thanks to its topnotch services and its eagerness to be present on various occasions."
Hammam, said "The issuance of the first electronic membership card, that can be used as a payment card for the club members, is a  distinguished service and an added value from Crédit Agricole for the club members, as it helps members conduct all their financial dealings inside the club, as well as use their cards at all government agencies, within the framework of the ongoing partnership that will extend for the next ten years under the new contract."