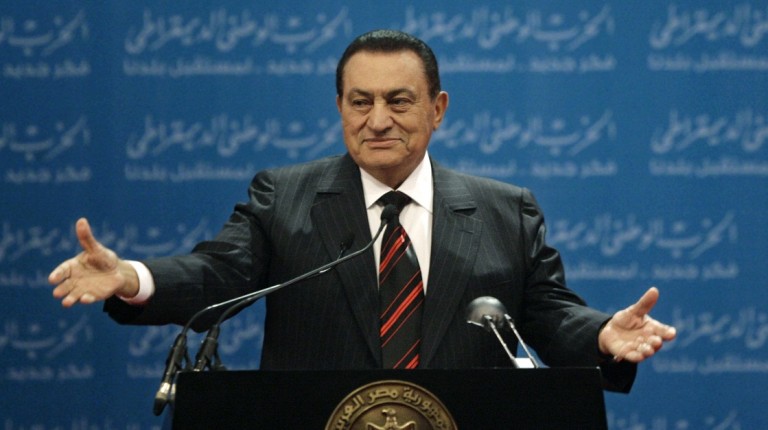 Egypt's former longest-serving president Mohamed Hosni Mubarak passed away on Tuesday at the age of 91. The Egyptian presidency, cabinet, Armed Forces, and parliament mourned Mubarak's death, while three days of a national morning have been declared.
Mubarak underwent surgery almost a month ago, and was transferred to intensive care a few days ago before he died.
He served as the fourth president of Egypt from 1981 to 11 February 2011, when he was ousted after 18-days protests against his rule in what was known as the Arab Spring. The Egyptians protested against poverty, unemployment, worsening inflation, and corruption.
He was jailed for years and was sentenced to life in prison over corruption charges in 2012. However, he was cleared in 2017 from charges alleging his connection to the killing of hundreds of protesters during the 25 January revolution. At least 846 people were killed and more than 6,000 injured during the popular uprising. He was also acquitted of corruption charges involving gas exports to Israel. Mubarak and his two sons Gamal and Alaa were convicted on charges of seizing public funds by embezzling money specified for the presidential palace.
Mubarak's death comes a few days after both his sons, Alaa and Gamal, were acquitted of illicit stock trading charges in 2007.
Mubarak was born in May 1928 in Kafr Al-Masilhah in Menoufia. He was graduated from the Egyptian Military Academy in 1948 and then from the Egyptian Air Defense Academy in 1950.
He served in many military roles and was appointed the Egyptian Air Force chief of staff, before becoming the commander of the Air Force and a defence minister deputy, when he played a key role in the 1973 War.
In 1975, former president Anwar Sadat chose Mubarak to be the vice president. In October 1981, he was sworn in as a president, following the assassination of Sadat. He signed Camp David Accords in 1978 with Israel.
Mubarak was elected President of the Organization of African Unity in 1989 and 1993. Under his rule, Egypt returned to the Arab League after its membership was frozen due signing the Camp David Accords.
In 2005, he asked the parliament to amend Article 76 of the Constitution to make the election of the president by direct secret ballot and to open the doors for registered parties to nominate a candidate in any presidential election.
However, he was accused of paving the way for his son Gamal to be the next president. Several anti-government movements, such as Kefaya (Enough) and April 6 Youth Movement, were formed and became active against regime polices during his tenure.