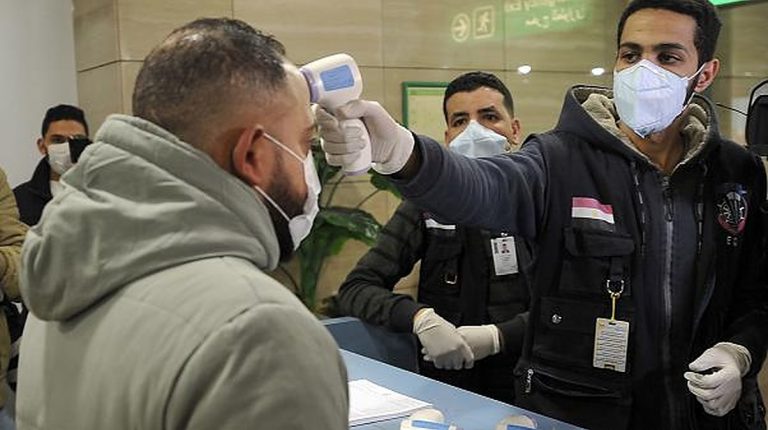 Although Egyptian authorities affirmed over and over that the country is clear of COVID-19, France, Canada, and Taiwan said that a number of their nationals who visited Egypt recently were diagnosed with the virus.
Taiwan reported five COVID-19 cases on Saturday, including four who were infected from a patient in a hospital there and the fifth has just returned from a trip to Egypt and Dubai, bringing Taiwan's COVID-19 toll to 39 cases.
Canada also reported its eighth case of coronavirus last Friday in Toronto, saying the patient was a man in his 80s who visited Egypt recently.
Moreover, France's Health Minister Olivier Veran said last Thursday the country has 38 confirmed COVID-19 cases, of whom two have just returned from Egypt and they were reportedly in a serious condition.
These updates raise questions on the credibility of the Egyptian Ministry of Health's statements that deny the existence of any Coronavirus cases except one case that was recovered a few days ago. Daily News Egypt digs deep into the matter to know whether Egypt is risking diplomatic embarrassment with the countries that discovered COVID-19 cases coming from Egypt.
No evidence they were infected in Egypt
Ambassador Gamal Bayoumi, former assistant minister of foreign affairs, said Egypt won't face any diplomatic issues with France, Canada, and Taiwan for this matter, noting that there is no evidence that those people were infected in Egypt.
"The Egyptian Ministry of Health and Population is in full coordination with the World Health Organization (WHO). There are many rumours that the government doesn't want to announce already discovered Coronavirus cases which isn't true at all," Bayoumi told DNE, adding that Egypt has highly qualified doctors.
Egypt's Prime Minister Moustafa Madbouly affirmed that the government is not hiding any information regarding Coronavirus, and that they are dealing with the crisis with "transparency." He said during a cabinet meeting last Thursday, that all required precaution measures were taken by the health ministry in cooperation with the WHO.
Noteworthy, Coronavirus outbreak has reached several countries in the Middle East, especially the Gulf Cooperation Council (GCC) countries, Bayoumi mentioned, adding, "COVID-19 is a new virus. We can't blame affected countries."
Experts praise Egypt's handling of the issue
Bayoumi praised the Egyptian authorities for contacting their French and Canadian counterparts to get information about the places that their infected nationals had visited in Egypt.
Madbouly declared on Saturday that workers in the hotel that hosted the two French COVID-19 cases will be examined, affirming that Egyptian authorities had consulted with French counterparts over the diagnosis of the two French.
Economic and diplomatic expert Youm El-Hamakki agreed with Bayoumi that Egypt won't face any diplomatic embarrassment due to the Coronavirus cases found in France, Canada, and Taiwan.
"WHO office in Cairo is in direct contact with the Egyptian Ministry of Health to follow the situation in the country," El-Hamakki said, asserting the importance of exchanging data with France, Canada, and Taiwan in this regard.
The WHO is aware of reports issued by French and Canadian authorities about the infected tourists who visited Egypt, WHO said in a statement on Saturday, adding that Egypt is contacting with France and Canada to exchange necessary information to track the patients when they were in Egypt, and will issue a report with the WHO within the coming days.
France has already begun to share the results of the investigation with Egypt and WHO, while Canada has acknowledged receiving Egypt's request to exchange data about the infected case, the WHO added.
Countries are currently focusing on screening travellers coming only from affected countries, such as China, Iran, Italy, or South Korea, the WHO said.
Egypt carries out an entry examination for travellers coming from these countries only based on a self-assessment carried out by the Ministry of Health and Population, as the examining of all entries "consumes resources," the WHO explained.
Additionally, El-Hamakki praised the Egyptian authorities' handling of the issue and how they dealt with the citizens who returned from China early February. Egyptian returnees from China's Wuhan were put in a mandatory quarantine in Matrouh governorate until they have completed the 14-day period with no symptoms or positive Coronavirus test results. 
The local authorities also acted professionally with the Chinese man who was diagnosed with COVID-19 in the country until he recovered, El-Hamakki noted. 
On 14 February, Egypt's Ministry of Health and Population and the WHO, announced that the Egyptian government has discovered the first case of Coronavirus in the country. The case was a foreigner who had not showed any symptoms but had been identified based on travel patterns.
Khaled Megahed, a spokesperson for the health ministry, said laboratory tests had been conducted, the patient was quarantined in hospital and the WHO had been informed. On 29 February, the ministry said the patient recovered and Egypt is clear of the virus.
Possible negative economic impact
El-Hamakki said Egypt will be affected by the negative economic impact of the COVID-19 epidemic, especially if it spread in the country, adding, "we pray that it doesn't spread so fast in Egypt as the population here is very big and we lack the required medical equipment."
She stressed that the Coronavirus had negative impact on the global economy in terms of outsourcing and value chain as many countries depend on China for manufacturing.
"We must work together to contain COVID-19 impact – on both human and economy – especially if the outbreak turns out to be more persistent and widespread," Managing Director of the International Monetary Fund (IMF) Kristalina Georgieva said on 23 February, adding that the IMF stands ready to help through its Catastrophe and Containment Relief Trust that can provide grants for debt relief to the poorest and most vulnerable countries.