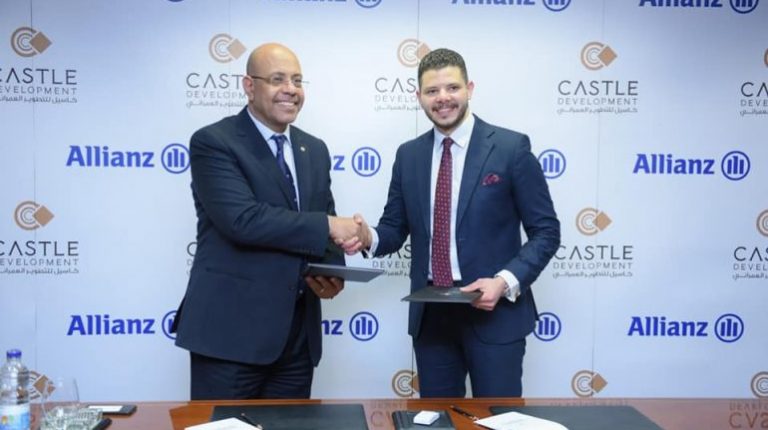 Castle Development and Allianz Insurance company – Egypt signed an agreement to offer payment protection insurance (MPPI) to the former's customers.
According to this agreement, Allianz Egypt will cover installment payments in case the property's owner passed away; consequently, the owner's family inherits the unit without any financial commitments. This protocol conclusively makes Castle Development the first real estate developer in Egypt to introduce such insurance systems to its customers.
Castle Development partnered with the Misr for Central Clearing, Depository and Registry to develop Castle Landmark at the New Administrative Capital, where the former acts as the developer. With an investment of EGP 5bn, the project introduces an integrated, smart residential compound, which runs on solar energy that feeds 70% of its overall area. Ideally located on R7 site in the New Capital, the project covers a total land area of 43 feddan, 81% of which is allocated to greenery and open space. Set to start delivering in 2022, the project provides owners with a lineup of premium amenities and facilities, as well as commercial and recreational areas all adjacent to the city's Green River.
Ahmed Mansour, CEO of Castle Development, said, "In line with the company's commitment and sense of responsibility towards our customers, we believe it is necessary to provide different solutions that deliver value and security, ultimately enabling them to trust our product. This is another step in our journey towards offering rewarding, high-quality services in order to significantly increase our competitive advantage as a developer, locally as well as globally."
Mansour elaborated on the partnership with Allianz Egypt saying, "We always join forces with entities that possess the experience that enables them to accommodate our standards and set of objectives when it comes to developing modern real estate."
Allianz Insurance Company – Egypt is part of Allianz Group, a global financial services provider on which 85 million retail and corporate clients rely on our knowledge, global presence, financial strength, and solidity in more than 70 countries.